72 Hour Bounce-Back Gift Certificate
Here is a great Guerrilla Marketing Idea to try. If is called the 72 Hour Bounce-Back Gift Certificate. It is simple and elegant.
Here is the concept ...
You have a small wallet size card that you or your server present to a customer at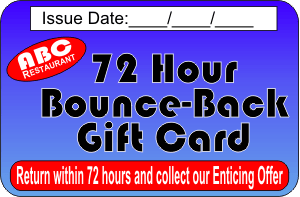 the end of their meal. It makes an enticing offer to your customer if they return to your restaurant within 72 hours. You know your restaurant and guests best, so pick an offer you think suites your restaurant and patrons.
You or your server would say something like:

"We really appreciate your business and would like to invite you back to our restaurant with our 72 Hour Bounce-Back Gift Certificate."
The psychology here is: 1) to get your guest in the habit of coming to your restaurant and 2) embedding your establishment's name in their mind.

"Remember: We are creatures of habit.

Psychology plays a big role in restaurant marketing."
This offer is time limited by it's very nature. It is easy to setup and implement. There is no advertising cost associated with this program other than the cost of your offer (be it a 2 for 1, free dessert with entree etc.) and the price of the cards.
You are free to pick and choose who you extend this offer to.
All you need are a few pages of the print-it-yourself business cards, available at all of the office supply shops, and your office computer. Print up the basic card leaving an area for the date you give the card to your guest. You are already to launch your promotion.

As with all promotions and campaigns, it is very important to figure out how you are going to track this offer in your establishment. Pick a number of cards, say 200 for arguments sake, and then count how many get returned.
Perhaps you give them to a new guest to encourage them to return, or you may use this promotion to reward regulars. The important thing is you will see patrons returning and spending money in your restaurant.
Recipes by Gina - Recipe of the Moment
---

Smoked Duck, Dried Cranberries and Spiced Pecan Salad
---
INGREDIENTS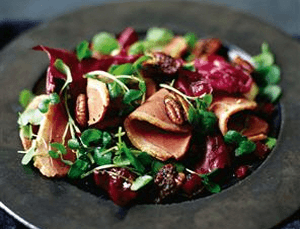 SALAD:
35g pecans
15g butter
1/2 tsp ground mixed spice
1 tbsp soft dark brown sugar
2 x 85g bags watercress
2 red chicory, leaves separated
75g dried cranberries, soaked in boiled water for 5 minutes,drained
200g sliced smoked duck breast
DRESSING:
1/2 tsp Dijon mustard
11/2 tbsp red wine vinegar
3 tbsp olive oil
41/2 tbsp hazelnut oil
1 tsp crème de cassis
DIRECTIONS
Put the nuts into a hot, dry frying pan over medium heat and toast for about 30 seconds. Add the butter, mixed spice and sugar, reduce the heat slightly and cook for 11/2-2 minutes, turning halfway. The nuts should be caramelised, but be careful not to burn them. Season and spread out on a tray to cool.
Meanwhile, make the dressing. Put the mustard and vinegar in a small bowl, then whisk in the oils. Add the crème de cassis in 2 stages, so you can check for sweetness. Season.
In a bowl, toss the watercress, chicory, cranberries and nuts with most of the dressing. Divide between plates, arrange the duck on top and drizzle with the rest of the dressing.