Hydro-One : Small Business Programs

Ontario Hydro has recently created these innovative programs for Small Business users.

Concidering the cost of energy and the relatively high use of electricity in the restaurant and food preperation business, you might find it worth while to investigate these programs by following the links to Hydro One's website and having a read!

Now, more than ever, businesses in Ontario are looking for ways to save costs and be more energy efficient. That's where the SMALL BUSINESS LIGHTING Program comes in. Under this program, qualifying businesses can get up to $1,000 (plus tax) worth in free energy efficient lighting and equipment upgrades.

Reducing peak demand, saving energy, and improving your bottom line. What is the Demand Response Program? Periods of peak demand drive up the price of electricity, put a strain on the electricity grid, and affect its reliability. The DEMAND RESPONSE PROGRAM is designed to compensate participating businesses. All you have to do is reduce your energy consumption when you receive periodic activation notices. You'll earn a significant monthly payment for taking part, and you'll save on your direct energy costs at the same time.

The save ON energy RETROFIT PROGRAM offers you financial incentive to adopt more energy-efficient technologies and improve your bottom line. Participate and Save. The RETROFIT PROGRAM provides financial incentives for replacing inefficient existing equipment with high efficiency equipment that will improve the efficiency of your operational procedures and processes.
Recipes by Gina - Recipe of the Moment
---
BBQ Lamb Chops
---
INGREDIENTS: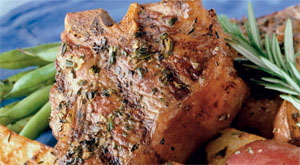 ¼ cup plain yogourt   #44300
¼ cup tomato paste   #00710
4 tsp minced garlic   #05220
½ tsp Sriracha hot sauce
2 tsp light brown sugar   #09606
2 tsp kosher salt   #13792
Freshly ground black pepper   #14040
1 tsp dried rosemary   #14085
½ tsp cumin   #13938
1 tsp apple cider vinegar   #07284
4 tsp olive oil   #13736
9 lamb loin chops   #65500
DIRECTIONS:
Mix the yogurt, tomato paste, garlic, hot sauce, brown sugar, salt, freshly ground black pepper, apple cider vinegar and oil.
Generously cover each chop with the marinade. Marinate overnight, or for at least two hours.
Grill the lamb chops over a medium charbroiler, until cooked to your desired doneness, about 8 minutes for medium rare, turning once or twice. Remove from the grill and let rest for 3 to 5 minutes.
Serve with a side of grilled vegetables.
PROFIT POTENTIAL (3 chops per serving)
Approx. Cost - $8.66
Suggested Sell - $19.99 - $24.99
Profit - $11.33 - $16.33
*Includes a provision of $1.45 for grilled vegetables.