Menu Pricing Hints
Why should you price your menu ending with .99's vs .95's?
"It's not that much of a difference, 4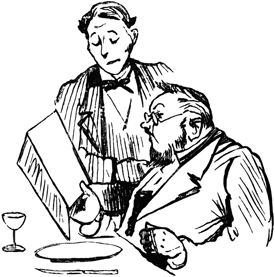 cents doesn't matter"...or does it?
If you serve an average of 200 items per day, here is how it works out:
200 x $.04 = $8.00/day

$8.00 x 365 days year = $2920.00/year

Almost $3000.00 extra from just changing your prices from .95 to .99

Now, if you have a higher end establishment, you might consider rounding your prices to the nearest dollar for a more sophisticated and less bargain look. Again more profit!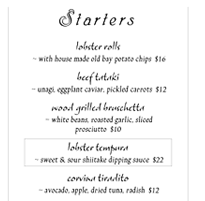 Another trick is to keep your prices next to your descriptions, making them less noticeable. If they are in a column format, customers tend to go down the column and choose the least expensive item.
To figure out what you should charge for an entree, first calculate your cost.
If your cost is $3.20 for a stuffed chicken breast, $0.48 for 6oz of fries and $0.42 for mixed vegetables this is how is should be priced. 3.20 +.48 +.42 = $4.10 - 4.10 x 3.3 = $13.53

You should price this menu item between $11.99 to $14.99 depending on your location, the competition and what your customers are willing to pay.
by Gina Trudeau

from Gina's Corner,
Findlay's Monthly Feature June 2012

Recipes by Gina - Recipe of the Moment
---
Thai Trout
---
INGREDIENTS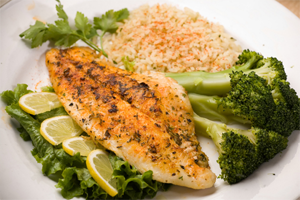 2 large sweet onions, peeled and quartered
¼ cup ginger, peeled and sliced
6 cloves garlic
½ cup lemon juice   #10262
½ cup soy sauce   #06485
1 tbsp. ground cumin   #13938
1 tbsp. ground turmeric   #14097
¼ tsp. red pepper flakes
¾ cup canola oil   #13732
¼ cup cilantro, chopped
12 Trout fillets 7-9 oz   #65055
3 cups Peanut Sauce*
prepared basmati rice   #02171
steamed vegetables
DIRECTIONS
In the bowl of a food processor, puree onions, ginger and garlic.
Add lemon, soy, spices (except cilantro) and puree again until smooth.
With the motor running, add oil in a slow, steady stream to emulsify.
Remove marinade from processor, stir in cilantro and set aside.
Wash trout fillets and pat dry.
Pour marinade over fillets in a bowl and toss gently to coat completely.
Cover and refrigerate 45-50 minutes to marinate.
To Cook Each Fillet:
To grill, on a very hot, well-oiled grill, place marinated trout fillet flesh-side-down and cook 2-3 minutes, rotating to create crosshatch marks.
Turn fillets and finish cooking 2 minutes or until cooked through. (Trout fillets may also be broiled 4-5 minutes until golden brown and firm.)
To Serve:
Plate each grilled trout fillet over 1 cup basmati rice and top with 2 Tbsp.
PEANUT SAUCE (3 cups)INGREDIENTS
1-½ cups Reserved marinade
1 cup (6 oz.) Chunky peanut butter
1 cup (7 oz.) Unsweetened coconut milk
1/3 cup Granulated sugar Chicken stock as needed
DIRECTIONS
In a heavy saucepan combine all ingredients except chicken stock. Bring to a low boil, reduce heat and simmer 2-3 minutes. Use as directed above, adding chicken broth as needed to thin sauce to desired consistency.
Serve accompanied by steamed vegetables, if desired.