Menu Pricing Hints
Why should you price your menu ending with .99's vs .95's?
"It's not that much of a difference, 4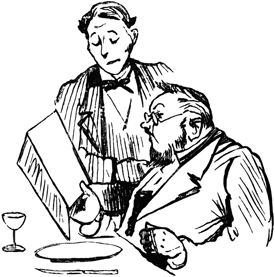 cents doesn't matter"...or does it?
If you serve an average of 200 items per day, here is how it works out:
200 x $.04 = $8.00/day

$8.00 x 365 days year = $2920.00/year

Almost $3000.00 extra from just changing your prices from .95 to .99

Now, if you have a higher end establishment, you might consider rounding your prices to the nearest dollar for a more sophisticated and less bargain look. Again more profit!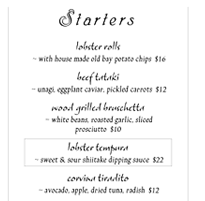 Another trick is to keep your prices next to your descriptions, making them less noticeable. If they are in a column format, customers tend to go down the column and choose the least expensive item.
To figure out what you should charge for an entree, first calculate your cost.
If your cost is $3.20 for a stuffed chicken breast, $0.48 for 6oz of fries and $0.42 for mixed vegetables this is how is should be priced. 3.20 +.48 +.42 = $4.10 - 4.10 x 3.3 = $13.53

You should price this menu item between $11.99 to $14.99 depending on your location, the competition and what your customers are willing to pay.
by Gina Trudeau

from Gina's Corner,
Findlay's Monthly Feature June 2012

Recipes by Gina - Recipe of the Moment
---
Cheesy Capicola Chicken
---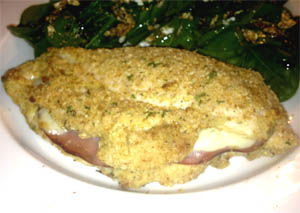 This Chicken dish has a wonderful Italian flare with the distinct flavour of capicola and provolone cheese. Feature it with roasted potatoes and vegetables, a side salad or a side of pasta.
INGREDIENTS
8 boneless butterfly chicken breasts   #58708
16 slices capicola   #76901
8 slices provolone cheese   #20729
2 cups Italian bread crumbs   #09039
2 large eggs   #33520
1/4 cup grated parmesan cheese   #20793
1/2 cup oil (for frying)   #13720
salt and pepper to taste
DIRECTIONS
Pre-heat oven to 400 degrees.
Lightly pound butterfly chicken breast to flatten evenly and season with salt and pepper.
Mix bread crumbs and parmesan cheese in a bowl. In a separate bowl scramble the two eggs.
Dip the chicken breast in the eggs then coat with the bread crumb mixture on both sides.
Place 2 slices of capicola & 1 slice of provolone cheese on each chicken breast and fold over. (you may secure with a toothpicks if necessary)
Place oil in a large sauté pan and heat on med - high. Sear the stuffed chicken breasts until lightly browned on both sides. About 2 minutes on each side.
Set the browned chicken breasts on a baking sheet and oven bake for another 10-15 minutes.
Let chicken rest for 3 minutes then plate and serve with roasted potatoes & vegetables, a side salad or a side of pasta.
PROFIT POTENTIAL

(One 8oz portions per entrée)

Approx. Cost - $5.71/entree

Suggested Sell - $16.99-$18.99/entrée

Profit - $11.28-$13.28/entrée

*Includes a provision of $1.45 for green beans,

and roasted potatoes.