Recipes by Date
Recipes for 2017

October 2017

July 2017

April 2017

March 2017

June 2017

Recipes for 2016

November 2016

October 2016

September 2016

August 2016

July 2016

June 2016

Febuary 2016

Recipes for 2015

December 2015

October 2015

July 2015

June 2015

May 2015

April 2015

March 2015

Febuary 2015

January 2015

Recipes for 2014

December 2014

November 2014

October 2014

September 2014

August 2014

July 2014

June 2014

May 2014

April 2014

March 2014

Febuary 2014

January 2014

Recipes for 2013

December 2013

November 2013

October 2013

September 2013

August 2013

July 2013

June 2013

May 2013

April 2013

March 2013

Febuary 2013

January 2013

Recipes for 2012

December 2012

November 2012

October 2012

September 2012

August 2012

July 2012

June 2012

May 2012

April 2012

March 2012

Feburary 2012

January 2012

Recipes for 2011

December 2011

November 2011

October 2011

September 2011

August 2011

July 2011

June 2011

May 2011

April 2011

March 2011

February 2011

January 2011

Recipes for 2010

July 2010

December 2010

November 2010

October 2010

September 2010

August 2010

June 2010

May 2010

April 2010

no earlier recipes
Recipes by Category
Appetizers

Beverages/Drinks

Breakfast

Desserts

Entrees

Beef / Veal

Burgers

Chicken / Turkey / Duck / Fowl

Eggs

Lamb/Mutton

Pasta

Pork

Seafood / Fish

Salads

Sandwiches

Sauces / Gravy / Dips

Sidedishes

Soups

end of recipes by category
---

Greek Chicken Wrap

---
A great summer addition to your menu, easy to prepare and profitable!
INGREDIENTS: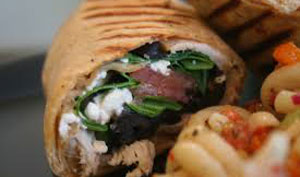 1 12" tomato basil tortilla wrap
  #01924
1 tsp hummus
  #06542
2oz baby greens
  #87048
SPO
2oz chopped tomatoes
  #87050
SPO
2oz sliced cucumbers
  #87141
SPO
1oz sliced red onion
  #87037
SPO
3oz grilled sliced chicken breast
  #36149
1 tsp chopped fresh parsley
  #87120
SPO
2oz Greek feta & oregano dressing
  #05089
2oz tzatziki sauce
  #06545
DIRECTIONS:
Lay tortilla wrap flat on your work surface. Proceed to layer ingredients in order until all are piled in the middle of the tortilla.
Fold the tortilla and cut in half.
Serve with tzatziki sauce on the side.
Grill the tortilla on each side to seal wrap (optional)
PROFIT POTENTIAL

Approx. Cost - $2.92

Suggested Sell - $8.99 - $10.99

Profit - $6.07 - $8.07
Make it a platter and serve it with fries, couscous salad or Mediterranean rice and increase your profits!