A BRIEF HISTORY OF TAKE OUT FOOD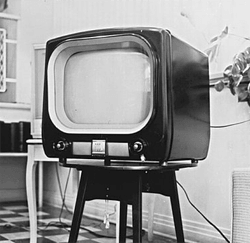 The evolution of modern take out foods is a fascinating convergence of social history and packaging technology. A survey of articles in New York Times Historic confirms the 1950s as the "start date" for modern take-home meals in the United States. This also coincides with the explosion of family restaurants, mainstream "ethnic" and backyard barbeques. Why? Returning WWII GI's settled their families in the suburbs. And then came television.
"The term "take-out" describes both a style of eating and a growing list of prepared foods that consumers purchase from a restaurant or food stand and eaten in another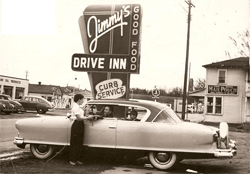 location. Delivery format, packaging, and types of food vary greatly, ranging from hamburgers to expensive gourmet fare, but all may be categorized as takeout because of this off-premise consumption. In the United States, take-out food is often viewed as synonymous with fast food...The concept of take-out food and the practice of buying prepared foods for consumption elsewhere date to early civilization. Roadside stands and food stalls in busy urban markets were commonplace in ancient Greece and Rome...Almost every culture in every era has had its version of take-out foods...Urban industrial workers in nineteenth-century America further popularized take-out foods. Food vendors sold various sausages and stews from carts outside factory gates, catering to workers with little time or money...In many urban areas, ethnic Italian and Chinese restaurants competed with early hamburger outlets for take-out customers. Small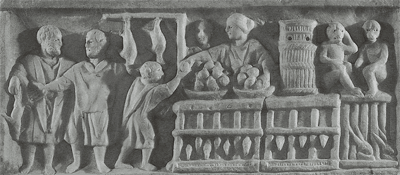 storefront pizzerias and "chow chow houses" sold inexpensive pizzas and Americanized Chinese foods on a primarily take-out basis. Using broad, flat white cardboard boxes for pizzas and small waxy paper cartons for chow mien and chop suey, these ethnic restaurants standardized distinctive take-out packaging that became synonymous with their foods. Although popular in city neighborhoods, ethnic restaurants long composed only a small share of the take-out industry. Automobiles revolutionized the take-out food industry, requiring larger-volume production and specialized delivery systems..."
---Oxford Encyclopedia of Food and Drink in America, Andrew F. Smith editor [Oxford University Press:New York] 2004, Volume 2 (p. 526-7)
Pizza & Chinese: the "original" take out foods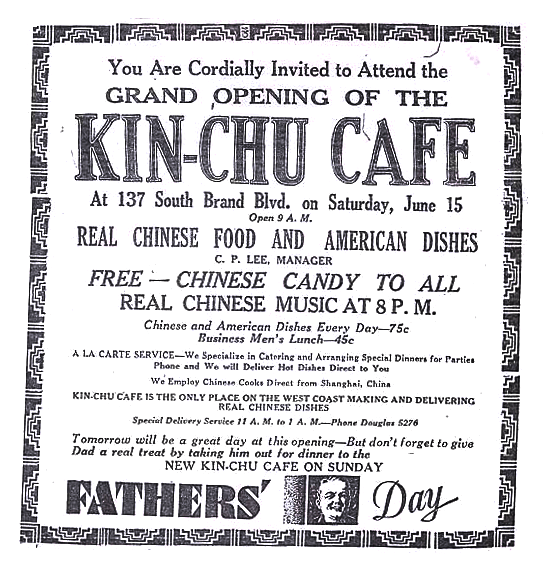 The earliest print reference we find for Chinese food delivery is this ad from the Kin-Chu Cafe,Los Angeles, circa 1920s. The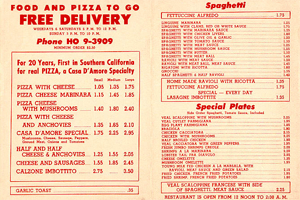 earliest reference for pizza delivery is Casa D'Amore, Los Angeles, circa 1950s.
A survey of historic New York Times articles indicates by the 1950s, pizza and Chinese were readily available. At least in the city. They were packaged in cardboard containers.
"One of the most popular dishes in southern Italy, especially in the vicinity of Naples, is pizza--a pie made from a yeast dough and filled with any number of different centers, each one containing tomatoes. Cheese, mushrooms, anchovies, capers, onions and so on may be used. At 147 West Forty-eighth Street, a restaurant called Luigino's Pizzeria Alla Napoletana prepares authentic pizza, which may be ordered to take home. They are packed, piping hot, is special boxes for that purpose."

---"News of Food: Pizza, a Pie Popular in Southern Italy, is Offered Here from Home Consumption," Jane Holt, New York Times, September 20, 1944 (p. 19)
"Hillside Inn [Richmond Hill, NY]...American & Chinese restaurant...Food Put up to Take Out."
---Christian Science Monitor, September 29, 1938 (p. 16)
"Those who wish a ready-prepared hot Chinese dinner may call on several different establishments. The Midtown Chinese Rathskeller, 125 West Fifty-first Street, packs such well-known specialties of the Orient as chicken chow mien, subgum chicken chop suey and lobster a la Canton. Deliveries are made on fairly large orders....Most pizzerias have cardboard boxes large enough to hold even the hugest pizza so it may be carried home. But the Sorrento Restaurant and Pizzeria, 216 Avenue A, delivers this and several other typically Italian dishes as far uptown as Stuyvesant Town on the East Side. Assorted antipasto is 60 cents, manicotti 75 cents, chicken cacciatore with spaghetti, $1.25. Desserts are also of an Italian flavor; spumoni (25 cents a serving) is one."
---"News of Food: Ready-prepared Meal Services Offer Post-Holiday Respite for Home Cooks," New York Times, January 9, 1952 (p. 32)
What about cleverly crafted handled paper cartons used for Chinese take out?
They were "invented" in 1903 by Bloomer Brothers, a Rochester NY based paper company. The original intent? Oyster pails.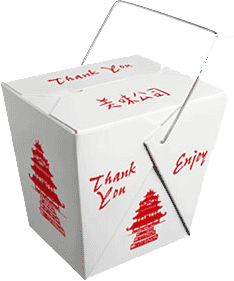 "The white take-out carton is an amazingly elegant product. It is a simple design, yet it connotes so much: Chineseness, harried lifestyles, working mothers, cheap yet filling, late night, eating together without dining together, meal as afterthought... Pick up a white carton sometimes, and you'll likely see the name Fold-Pak inscribed unobtrusively on the bottom; this is the company that makes some two-thirds of the take-out containers in the country. The industry calls the cartons "food pails"... Tim Roach, a vice president...in the early twentieth century, the cartons were used to hold shucked oysters...At various points... the carton was used to hold ice cream, deli goods, and even goldfish at carnivals...Around World War II, the box found a different audience...Somehow...it worked its way into Chinese restaurants as the take-out container and it became the dominant package for Chinese takeout...Once it evolved into a container for Chinese food, the company put a generic Chinese design on it. The Pagoda was it...The demand for take-out boxes across the country is considerable, so the factory operates three shifts, twenty-four hours a day, nonstop."
---The Fortune Cookie Chronicles, Jennifer 8. Lee [Twelve:New York] 2008 (p. 139-140)
"Q: I've long admired the simple-yet-elegant cardboard cartons Chinese restaurants use to deliver takeout orders. Do they come from China?"

"A: Many come from Hazleton, Pa.,...about 100 miles from New York City. The cartons of folded cardboard, coated on the inside, with the wire handles, veritable icons of economy, ingenuity and simplicity, can hold everything from mu shu prk to won ton soup, retaining the dish's heat while releasing steam. The Fold-Pak corporation, based in Newark, N.Y. is the nation's largest manufacture of cardboard food pails for the restaurant and takeout food industry, and its Hazleton plant produces the majority of the containers used by New York City's Chinese restaurants. Robert E. Mullally, senior vice president of sales at Fold-Pak estimates that his company ships about 100 million of the cartons to New York City each year, where distributors sell them to restaurants. Fold-Pak cartons are available in plan white, or with a festive pagoda design...The company, originally named Bloomer Brothers, began manufacturing the containers shortly after 1900, when they were used as oyster pails...The company...became the Reigel Paper Corporation in the 1960's, then the Fold-Pak Corporation in 1977."
---"What Takeout Comes In," New York Times, June 1, 1997 (p. CY2)[NOTE: Bloomer Brothers incorporation notice was published in the New York Times April 19. 1903 (p. 18). Original USA patent, #902,932, C.T. Bloomer, November 3, 1908
Take Home Meals
"Take home" differs from "take out" in that it is marketed as a home meal replacement rather than fast food or ethnic fare. It is not necessarily cheaper nor is it always quickly prepared. What sells take home? Convenience and taste. Like take out, this dining option was introduced after World War II. Why? Restaurant survival 101: economics. Doggie bags, leftovers taken home from a restaurant meal, serve a different purpose.
"Restaurant Chains Open Up New Field. Schraft's, Childs, Bickford's Selling Take-Home Meals to Augment Income. New Industry Trend Seen Prediction Made Housewife Soon Will Be Buying Family Dinners Like Groceries.

Restaurant chains and independents here and throughout the rest of the country are building up new departments which sell meals for home consumption. The three chains here which are entering this field in a big way are Schraft's, Child's and Bickford's. In commenting on this development in the food field, Keith R. Mount, assistant merchandising manager of the Lily Tulip Cup Corporation, the company which furnishes most of the containers in which food for home consumption said yesterday: New Industry Trend "Restaurant sales of food for the home are definately a new industry trend. It won't be long before the average housewife will be buying take-home foods like groceries." Mr. Mount explained that the restaurant business was been sinking steadily the last few years. Operators can't raise prices any more without scaring away what little business they have, he said, but operating costs such as wages have continued to climb. Last year, he said, restaurant earned an average net profit of only about 2 per cent throughout the country and many of these eating places lost money...The take-home trade has come as a solution to the problem...restaurants which build up this type of trade can do so on exactly the same overhead and production facilities they already have to serve patrons at the tables...Consequently [Mr. Mount] said take-home sales are all plus business and should be sold at lower prices than regular restaurant meals because they eliminate waiters, dish washers, table linen, plate breakage and loss of utensils. One of the reasons given for increased demand for prepared meals was television in the home. Some restaurants in New York have regular television menus made up for take-home orders. In stressing the importance of saving the restaurant business from slipping any further, Mr. Mount estimated that the industry represents expenditures by the public of about $12,000,000 each year...take-home orders can easily become the difference between success and failure. Prelimary reports received by his company from all parts of the country show sales increases of 20 to 50 per cent in eating places which have installed take-home departments..."
---"Restaurant Chains Open Up New Field," New York Times, July 5, 1952 (p. 18)
"Home Meal Replacement Finds its Place at the Table"/National Restaurant Association [1996]
"All Signs Point to Take Out Taking Off"/NRA [1999]
When did it all start?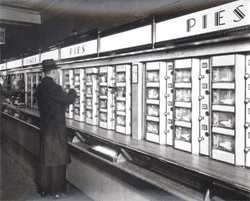 Some trace the modern history of fast food in America to July 7, 1912, with the opening of a fast food restaurant called the Automat in New York. The Automat was a cafeteria with its prepared foods behind small glass windows and coin-operated slots. Joseph Horn and Frank Hardart had already opened the first Horn & Hardart Automat in Philadelphia in 1902, but their "Automat" at Broadway and 13th Street, in New York City, created a sensation. Numerous Automat restaurants were built around the country to deal with the demand. Automats remained extremely popular throughout the 1920s and 1930s. The company also popularized the notion of "take-out" food, with their slogan "Less work for Mother".
Some historians and secondary school textbooks concur that A&W, which opened in 1919 and began franchising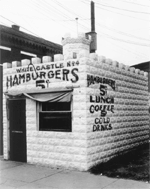 in 1921, was the first fast food restaurant (E. Tavares). Thus, the American company White Castle is generally credited with opening the second fast-food outlet in Wichita, Kansas in 1921, selling hamburgers for five cents apiece from its inception and spawning numerous competitors and emulators. What is certain, however, is that White Castle made the first significant effort to standardize the food production in, look of, and operation of fast-food hamburger restaurants. William Ingram's and Walter Anderson's White Castle System created the first fast food supply chain to provide meat, buns, paper goods, and other supplies to their restaurants, pioneered the concept of the multistate hamburger restaurant chain, standardized the look and construction of the restaurants themselves, and even developed a construction division that manufactured and built the chain's prefabricated restaurant buildings. The McDonalds' Speedee Service System and, much later, Ray Kroc's McDonald's outlets and Hamburger University all built on principles, systems and practices that White Castle had already established between 1923 and 1932.
The hamburger restaurant most associated by the public with the term "fast food" was created by two brothers originally from Nashua, New Hampshire. Richard (Dick) and Maurice (Mac) McDonald opened a barbecue drive-in in 1940 in the city of San Bernardino, California. After discovering that most of their profits came from hamburgers, the brothers closed their restaurant for three months and reopened it in 1948 as a walk-up stand offering a simple menu of hamburgers, french fries, shakes, coffee, and Coca-Cola, served in disposable paper wrapping. As a result, they were able to produce hamburgers and fries constantly, without waiting for customer orders, and could serve them immediately; hamburgers cost 15 cents, about half the price at a typical diner. Their streamlined production method, which they named the "Speedee Service System" was influenced by the production line innovations of Henry Ford.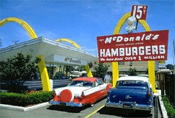 By 1954, The McDonald brothers' stand was restaurant equipment manufacturer Prince Castle's biggest purchaser of milkshake blending machines. Prince Castle salesman Ray Kroc traveled to California to discover why the company had purchased almost a dozen of the units as opposed to the normal one or two found in most restaurants of the time.
Enticed by the success of the McDonald's concept, Kroc signed a franchise agreement with the brothers and began opening McDonald's restaurants in Illinois. By 1961, Kroc had bought out the brothers and created what is now the modern McDonald's Corporation. One of the major parts of his business plan was to promote cleanliness of his restaurants to growing groups of Americans that had become aware of food safety issues. As part of his commitment to cleanliness, Kroc often took part in cleaning his own Des Plaines, Illinois outlet by hosing down the garbage cans and scraping gum off the cement. Another concept Kroc added was great swaths of glass which enabled the customer to view the food preparation, a practice still found in chains such as Krispy Kreme. A clean atmosphere was only part of Kroc's grander plan which separated McDonald's from the rest of the competition and attributes to their great success. Kroc envisioned making his restaurants appeal to suburban families.
At roughly the same time as Kroc was conceiving what eventually became McDonald's Corporation, two Miami, Florida businessmen, James McLamore and David Edgerton, opened a franchise of the predecessor to what is now the international fast food restaurant chain Burger King. McLamore had visited the original McDonald's hamburger stand belonging to the McDonald brothers; sensing potential in their innovative assembly line-based production system, he decided he wanted to open a similar operation of his own. The two partners eventually decided to invest their money in Jacksonville, Florida-based Insta-Burger King. Originally opened in 1953, the founders and owners of the chain, Kieth J. Kramer and his wife's uncle Matthew Burns, opened their first stores around a piece of equipment known as the Insta-Broiler. The Insta-Broiler oven proved so successful at cooking burgers, they required all of their franchises to carry the device. By 1959 McLamore and Edgarton were operating several locations within the Miami-Dade area and were growing at a fast clip. Despite the success of their operation, the partners discovered that the design of the insta-broiler made the unit's heating elements prone to degradation from the drippings of the beef patties. The pair eventually created a mechanized gas grill that avoided the problems by changing the way the meat patties were cooked in the unit. After the original company began to falter in 1959, it was purchased by McLamore and Edgerton who renamed the company Burger King.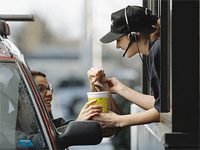 While fast food restaurants usually have a seating area in which customers can eat the food on the premises, orders are designed to be taken away, and traditional table service is rare. Orders are generally taken and paid for at a wide counter, with the customer waiting by the counter for a tray or container for their food. A "drive-through" service can allow customers to order and pick up food from their cars.
Nearly from its inception, fast food has been designed to be eaten "on the go" and often does not require traditional cutlery and is eaten as a finger food. Common menu items at fast food outlets include fish and chips, sandwiches, pitas, hamburgers, fried chicken, french fries, chicken nuggets, tacos, pizza, and ice cream, although many fast food restaurants offer "slower" foods like chili, mashed potatoes, and salads.
Recipes by Gina - Recipe of the Moment
---
Southern Caesar -
(Provided by Walter Craft Caesar Mix)
---

Ingredients
:

1 oz tequila (or mezcal)
5 oz Walter Craft Caesar Mix (Classic Spice)
0.5 oz orange or pineapple juice
2 dashes of hot sauce
1 dash of Worcestershire sauce
1 squeeze of fresh lime juice
Garnish: lime wedge, salt / peppered tomato wheel
Rim: mix of rock salt, paprika, black pepper and cumin
Ask your Findlay representative about our Caesar insert menus.
Prepared especially for you to help promote your Walter Craft Caesar Cocktail sales!