THE BEST CUSTOMER SERVICE, STEP BY STEP!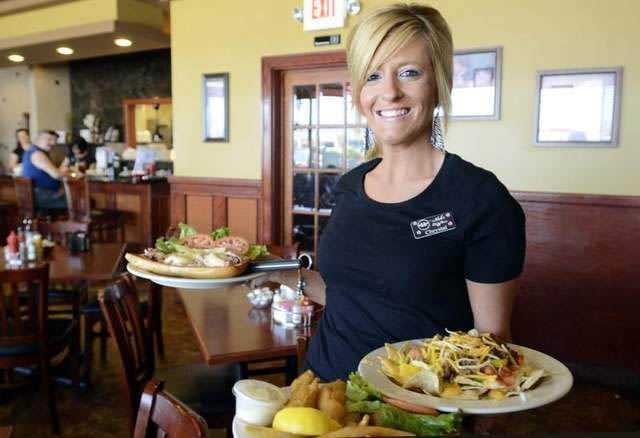 Customer service is the invisible product that creates customer loyalty and higher profits. Enhance the dining experience by training your staff to have a one on one relationship with every guest. This will create repeat business.
Acknowledge the guest within a minute of them being seated.

SMILE : ) So simple, it takes 1.5 seconds, and nothing makes a guest feel more at home.

Make small talk with your guests to make them feel more at home and get to know them.

"Where are you from?"

"Wow! I really like you earrings or tie."

"How are the kids doing?"

"How about this weather!"

Ask to take their drink order first, while they are deciding on their meal.

Order the drinks from the bar and deliver. By this time they should have decided on their meal.

LISTEN carefully to get the order right and to help suggest items on the menu. Guests appreciate suggestions when they can't make up their mind or if they are not familiar with your menu.

Repeat the order back to the guest to make sure it is correct, and let them know they made a good choice. Guests like to hear this and this also enforces the fact that they will enjoy their meal.

Take out any condiments the guest might require, before the meal arrives.

Take out the starter or appetizers and observe if drinks are getting low. If so, ask if they would like another.

Clean away appetizer plates.

Bring out the main course.


Remind them to leave room for dessert and suggest a dessert of your choice at this point.

Ask them; "Is there anything I can get you before you start our meal?"

"The two bite rule" After about 2-3 minute or two bites check on your guest to make sure they are enjoying their meal.

When they are finished, hand them a dessert menu and clear away dirty plates.

Return to ask if they have decided on a dessert and if they would like coffee of tea or anything from the bar. Take order.

Deliver dessert and drinks.

When you see they have finished dessert, ask if they would like anything else. If not, prepare bill and deliver to table promptly. Inform them of payment methods and THANK them.

Take payment, and inform them on upcoming events or just invite them back.

"Thursday is wing night, you should come in and try them.

Our guests love them!"

"I really enjoyed serving you! Hope to see you soon."

"We have a coupon for a $2.00 off lunch in this weeks paper, you should look for it. It's a good deal!"

Remember:

"SMILE : ) SMILE : ) SMILE : ) All the time!!!"

"Listen carefully and write orders down if you can not remember."

"Higher guest checks and better service means more tips for you!"

"Do not waste steps: if you just took an order from one table and walking by another that is dirty, pick up dishes on your way."
Recipes by Gina - Recipe of the Moment
---
Mac & 4 Cheese with a Curry Crumb
---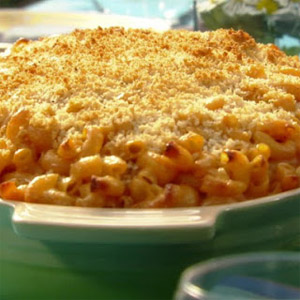 Who doesn't love Mac & Cheese? Mac & Cheese is making a huge comeback on Canadian menus and is very profitable and easy to make. Just prepare ahead in individual serving dishes, heat and serve. The 4 cheeses in this recipe work well together, and the curry powder brings a wonderful and trendy twist to this classic old favourite. But don't stop there, try adding chicken, ham, even lobster for an upscale version of Mac & Cheese… as always be creative!


INGREDIENTS:
2 cups elbow macaroni
1/4 cup butter
1/4 cup all-purpose flour
1/4 teaspoon dried thyme
1/4 teaspoon cayenne pepper
1/8 teaspoon white pepper
3 cups milk
1 pinch ground nutmeg
1/4 teaspoon worcestershire sauce
1/4 cup parmesan cheese, freshly grated
1/2 cup shredded fortino cheese
1/2 cup marscapone cheese
2 cups shredded sharp cheddar cheese, divided
1 teaspoon dijon mustard
1 1/2 cups panko bread crumbs
1 tablespoon curry powder
1 tablespoon garlic powder
2 tablespoons butter, melted
DIRECTIONS:
Preheat oven to 400 degrees F (200 degrees C).
Fill a large pot with lightly salted water and bring to a rolling boil over high heat. Once the water is boiling, stir in the macaroni, and return to a boil. Cook the pasta uncovered, stirring occasionally, until the pasta is cooked through but still slightly firm, about 8 minutes. Drain well.
Melt 1/4 cup butter in a large saucepan over medium heat. When the butter starts to foam and bubble, stir in the flour; cook on medium heat until flour just begins to turn pale yellow, 3 to 4 minutes. Add thyme, cayenne pepper, and white pepper; cook and stir another minute, then whisk in 1 cup of milk until smooth. Pour in remaining milk and whisk again. Bring the sauce just to a simmer.
Stir in nutmeg, Worcestershire sauce, and salt; simmer on medium-low heat until thickened, about 8 minutes, whisking often. Turn heat off, then add Parmesan, fortino, marscapone and 1 1/4 cups of cheddar cheese; stir until combined. Add dijon mustard and stir again.
Transfer the macaroni into a casserole dish, then pour in the cheese sauce; stir to thoroughly combine sauce with pasta. Mix panko bread crumbs and 2 tablespoons melted butter, curry and garlic powder in a small bowl. Sprinkle crumbs on top of macaroni and cheese. Sprinkle remaining 3/4 cup of cheddar cheese on top.
Bake in the preheated oven until bread crumbs and cheddar cheese topping are golden brown, about 20 minutes.