THE BEST CUSTOMER SERVICE, STEP BY STEP!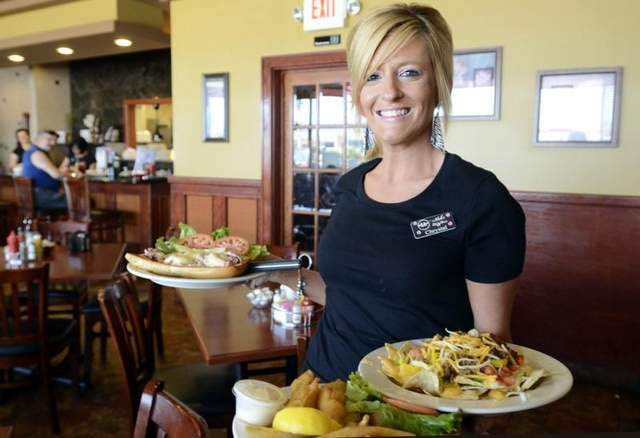 Customer service is the invisible product that creates customer loyalty and higher profits. Enhance the dining experience by training your staff to have a one on one relationship with every guest. This will create repeat business.
Acknowledge the guest within a minute of them being seated.

SMILE : ) So simple, it takes 1.5 seconds, and nothing makes a guest feel more at home.

Make small talk with your guests to make them feel more at home and get to know them.

"Where are you from?"

"Wow! I really like you earrings or tie."

"How are the kids doing?"

"How about this weather!"

Ask to take their drink order first, while they are deciding on their meal.

Order the drinks from the bar and deliver. By this time they should have decided on their meal.

LISTEN carefully to get the order right and to help suggest items on the menu. Guests appreciate suggestions when they can't make up their mind or if they are not familiar with your menu.

Repeat the order back to the guest to make sure it is correct, and let them know they made a good choice. Guests like to hear this and this also enforces the fact that they will enjoy their meal.

Take out any condiments the guest might require, before the meal arrives.

Take out the starter or appetizers and observe if drinks are getting low. If so, ask if they would like another.

Clean away appetizer plates.

Bring out the main course.


Remind them to leave room for dessert and suggest a dessert of your choice at this point.

Ask them; "Is there anything I can get you before you start our meal?"

"The two bite rule" After about 2-3 minute or two bites check on your guest to make sure they are enjoying their meal.

When they are finished, hand them a dessert menu and clear away dirty plates.

Return to ask if they have decided on a dessert and if they would like coffee of tea or anything from the bar. Take order.

Deliver dessert and drinks.

When you see they have finished dessert, ask if they would like anything else. If not, prepare bill and deliver to table promptly. Inform them of payment methods and THANK them.

Take payment, and inform them on upcoming events or just invite them back.

"Thursday is wing night, you should come in and try them.

Our guests love them!"

"I really enjoyed serving you! Hope to see you soon."

"We have a coupon for a $2.00 off lunch in this weeks paper, you should look for it. It's a good deal!"

Remember:

"SMILE : ) SMILE : ) SMILE : ) All the time!!!"

"Listen carefully and write orders down if you can not remember."

"Higher guest checks and better service means more tips for you!"

"Do not waste steps: if you just took an order from one table and walking by another that is dirty, pick up dishes on your way."
Recipes by Gina - Recipe of the Moment
---
Turkey Schnitzel with Apple Cider Turkey Gravy
---
This gravy is really good on its own, but when you add a little apple cider and apple cider vinegar, this seasonal version of turkey gravy is delicious! Try this recipe as a feature, not only can you charge more, but the unique flavour will set you apart from the competition. Be creative!
Recipe courtesy of Luda Inspiration.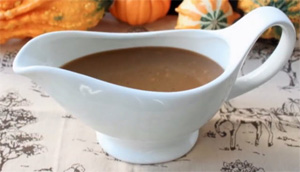 DIRECTIONS:
Prep the instant turkey gravy mix according to package directions. Keep warm.
In a medium sauce pan, add the prepared instant turkey gravy, apple cider, apple cider vinegar and parsley. Stir well. Bring to a boil for two minutes, then allow to simmer to reduce to roughly a liter in volume. Adjust seasonings with salt and pepper. Reserve the sauce for later use.
Blend eggs and cream. Dredge the cutlets in the seasoned flour, then the egg/cream mixture and finally the bread crumbs.
For Banquet Service: Shallow fry the Schnitzel at 350°F until about 80- 90% cooked and place on a baking sheets with parchment lined trays. Five to ten minutes before the service of the main course, brush each Schnitzel with clarified butter and warm up in a 400°F convection oven for about four to five minutes or until the center is fully cooked and warm.
For Order Service (à la minute): Shallow fry for four minutes in canola oil or, for added flavour, a blend of clarified butter and canola oil. Serve the warm sauce napped on a corner of the schnitzel or in a sauce boat (on the side). Serve with lightly buttered string beans and a serving of warm German potato salad.