HERITAGE MEASUREMENTS - Deciphering Grandma's Recipe Book

Truth is, most old recipes were not much more than shopping lists with cursory prep notes. Detailed instructions were not considered necessary because it was understood that whoever cooked the food already knew the basics. Measurements are time/country/food specific.

Did you know some culinary historians say we Americans measure with objects(as opposed to weight) because of our pioneer heritage? Conestoga wagons had plenty of cups & spoons but very few reliable scales. Scientific oven temperatures and exact measurements had no place in pre-industrial kitchens...which explains why food was commonly *served forth* when it was *done.*

Standard measurements and detailed cooking instructions were a by-product of the Industrial Revolution and are commonly attributed to Fannie M. Farmer, principal of the Boston Cooking School."

Up until the 1950's both the US and Britain used the same basic measurements. The US ones were called US Standard and the Britain ones were called Imperial, some of the measurements differed slightly in actual size, weight, or volume but utilized the same names. Britain did not go metric until officially until the early 90's as a result of the EU sanctions.



MEASUREMENTS

1 wineglass

1/4 cup

1 jigger

1.5 fluid ounces

1 gill

1/2 cup

1 teacup

a scant 3/4 cup

1 coffeecup

a scant cup

1 tumbler

1 cup

1 pint

2 cups

1 quart

4 cups

1 peck

2 gallons - dry

1 pinch or dash

what can be picked up between thumb and first two fingers; less than 1/8 teaspoon

1/2 pinch

what can be picked up between thumb and one finger

1 saltspoon

1/4 teaspoon

1 kitchen spoon

1 teaspoon

1 dessert spoon

2 teaspoons or 1 soupspoon

1 spoonful

1 Tablespoon more or less

1 saucer

1 heaping cup (about)

=====================================================================

TEMPERATURES

Very slow oven

below 300 degrees F.

Slow oven

300 degrees F.

Moderately slow oven

325 degrees F.

Moderate oven

350 degrees F.

Moderately hot oven

375 degrees F.

Quick oven

375 - 400 degrees F.

Hot oven

400-425 degrees F.

Very hot oven

450-475 degrees F.

Extremely hot oven

500 degrees F. or more

=====================================================================

COMMON WEIGHTS

1 penny weight

1/20 ounce

1 drachm

1/8 ounce

60 drops thick fluid

1 teaspoon

1 ounce

4-1/2 Tablespoons allspice, cinnamon, curry , paprika or dry mustard

or 4 Tablespoons cloves or prepared mustard

or 3-1/2 Tablespoons nutmeg or pepper

or 3 Tablespoons sage, cream of tartar or cornstarch

or 2 Tablespoons salt or any liquid

1 pound

2 cups liquid

or 4 cups flour

or 8 medium eggs with shells

or 10 eggs without shells

or 2 cups granulated sugar

or 2-1/3 cups packed brown sugar

or 3-3/4 cups unsifted confectioner's sugar

or 4-1/2 cups sifted confectioner's sugar

or 4 cups grated cabbage, cranberries, coffee or chopped celery

or 3 cups corn meal

or 2 cups uncooked rice

or 2-3/4 cups raisins or dried currants

Butter the size of a egg

1/4 cup or 2 ounces

Butter the size of a walnut

1 Tablespoon

Butter the size of a hazelnut

1 teaspoon

=====================================================================


Special Measuring Methods:

"Correct measurements are absolutely necessary to insure the best results.
Good judgment, with experience, has taught some to measure by sight;

but the majority need definite guides."

Tin, granite-ware, and glass measuring-cups, divided in quarters or thirds, holding one half-pint, and tea and table spoons of regulation sizes,—which may be bought at any store where kitchen furnishings are sold,—and a ease knife, are essentials for correct measurement. Mixing-spoons, which are little larger than tablespoons, should not be con-founded with the latter.

Firmly packed: With a spatula, a spoon, or by hand, the ingredient is pressed as tightly as possible into the measuring device.

Lightly packed: The ingredient is pressed lightly into the measuring device, only tightly enough to ensure no air pockets.

Even / level: A precise measure of an ingredient, discarding all of the ingredient that rises above the rim of the measuring device. Sweeping across the top of the measure with the back of a straight knife or the blade of a spatula is a common leveling method.

Rounded: Allowing a measure of an ingredient to pile up above the rim of the measuring device naturally, into a soft, rounded shape.

Heaping / heaped: The maximum amount of an ingredient which will stay on the measuring device.

Sifted: This instruction may be seen in two different ways, with two different meanings: before the ingredient, as "1 cup sifted flour", indicates the ingredient should be sifted into the measuring device (and normally leveled), while after the ingredient, as "1 cup flour, sifted", denotes the sifting should occur after measurement.



Measuring Ingredients.



Flour, meal, powdered and confectioners' sugar, and soda should be sifted before measuring. Mustard and baking powder, from standing in boxes, settle, therefore should be stirred to lighten; salt frequently lumps, and these lumps should be broken. A cupful is measured level. To measure a cupful, put in the ingredient by spoonfuls or from a scoop, round slightly, and level with a case knife, care being taken not to shake the cup. A tablespoonful is measured level. A teaspoonful is measured level.

To measure tea or table spoonfuls, dip the spoon in the ingredient, fill, lift, and level with a knife, the sharp edge of knife being toward tip of spoon. Divide with knife lengthwise of spoon, for a half-spoonful; divide halves crosswise for quarters, and quarters crosswise for eighths. Less than one-eighth of a teaspoonful is considered a few grains.



Measuring Liquids.



A cupful of liquid is all the cup will hold.

A tea or table spoonful is all the spoon will hold.

Measuring Butter, Lard, etc. To measure butter, lard, and other solid fats, pack solidly into cup or spoon, and level with a knife.

When dry ingredients, liquids, and fats are called for in the same recipe, measure in the order given, thereby using but one cup."


Recipes by Gina - Recipe of the Moment
---
Mac & 4 Cheese with a Curry Crumb
---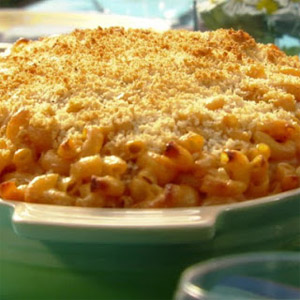 Who doesn't love Mac & Cheese? Mac & Cheese is making a huge comeback on Canadian menus and is very profitable and easy to make. Just prepare ahead in individual serving dishes, heat and serve. The 4 cheeses in this recipe work well together, and the curry powder brings a wonderful and trendy twist to this classic old favourite. But don't stop there, try adding chicken, ham, even lobster for an upscale version of Mac & Cheese… as always be creative!


INGREDIENTS:
2 cups elbow macaroni
1/4 cup butter
1/4 cup all-purpose flour
1/4 teaspoon dried thyme
1/4 teaspoon cayenne pepper
1/8 teaspoon white pepper
3 cups milk
1 pinch ground nutmeg
1/4 teaspoon worcestershire sauce
1/4 cup parmesan cheese, freshly grated
1/2 cup shredded fortino cheese
1/2 cup marscapone cheese
2 cups shredded sharp cheddar cheese, divided
1 teaspoon dijon mustard
1 1/2 cups panko bread crumbs
1 tablespoon curry powder
1 tablespoon garlic powder
2 tablespoons butter, melted
DIRECTIONS:
Preheat oven to 400 degrees F (200 degrees C).
Fill a large pot with lightly salted water and bring to a rolling boil over high heat. Once the water is boiling, stir in the macaroni, and return to a boil. Cook the pasta uncovered, stirring occasionally, until the pasta is cooked through but still slightly firm, about 8 minutes. Drain well.
Melt 1/4 cup butter in a large saucepan over medium heat. When the butter starts to foam and bubble, stir in the flour; cook on medium heat until flour just begins to turn pale yellow, 3 to 4 minutes. Add thyme, cayenne pepper, and white pepper; cook and stir another minute, then whisk in 1 cup of milk until smooth. Pour in remaining milk and whisk again. Bring the sauce just to a simmer.
Stir in nutmeg, Worcestershire sauce, and salt; simmer on medium-low heat until thickened, about 8 minutes, whisking often. Turn heat off, then add Parmesan, fortino, marscapone and 1 1/4 cups of cheddar cheese; stir until combined. Add dijon mustard and stir again.
Transfer the macaroni into a casserole dish, then pour in the cheese sauce; stir to thoroughly combine sauce with pasta. Mix panko bread crumbs and 2 tablespoons melted butter, curry and garlic powder in a small bowl. Sprinkle crumbs on top of macaroni and cheese. Sprinkle remaining 3/4 cup of cheddar cheese on top.
Bake in the preheated oven until bread crumbs and cheddar cheese topping are golden brown, about 20 minutes.