Hydro-One : Small Business Programs

Ontario Hydro has recently created these innovative programs for Small Business users.

Concidering the cost of energy and the relatively high use of electricity in the restaurant and food preperation business, you might find it worth while to investigate these programs by following the links to Hydro One's website and having a read!

Now, more than ever, businesses in Ontario are looking for ways to save costs and be more energy efficient. That's where the SMALL BUSINESS LIGHTING Program comes in. Under this program, qualifying businesses can get up to $1,000 (plus tax) worth in free energy efficient lighting and equipment upgrades.

Reducing peak demand, saving energy, and improving your bottom line. What is the Demand Response Program? Periods of peak demand drive up the price of electricity, put a strain on the electricity grid, and affect its reliability. The DEMAND RESPONSE PROGRAM is designed to compensate participating businesses. All you have to do is reduce your energy consumption when you receive periodic activation notices. You'll earn a significant monthly payment for taking part, and you'll save on your direct energy costs at the same time.

The save ON energy RETROFIT PROGRAM offers you financial incentive to adopt more energy-efficient technologies and improve your bottom line. Participate and Save. The RETROFIT PROGRAM provides financial incentives for replacing inefficient existing equipment with high efficiency equipment that will improve the efficiency of your operational procedures and processes.
Recipes by Gina - Recipe of the Moment
---
Tasty Lamb Burgers
---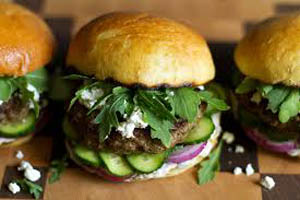 Something new for your summer menu! A lamb burger would add a unique and flavourful option to your regular burger menu!
INGREDIENTS
2 lbs lean ground lamb   #65506
2 large eggs   #33520
2 small onions, grated   #87035
3/4 cup minced fresh parsley   #87120
1/2 cup dry bread crumbs   #09040
1 tsp dried oregano   #14016
2 cloves garlic, minced   #87135
1/2 tsp salt   #13791
1/2 tsp pepper   #13877
1/4 tsp cinnamon   #13920
6 Brioche Burger Buns   #36647
Garnishes - Tzatziki sauce, crumbled feta cheese, baby spinach, sliced tomatoes & red onions.
DIRECTIONS
In large bowl, beat egg with 2 tbs water. Stir in onion, parsley, bread crumbs, oregano, garlic, salt, pepper and cinnamon; mix in lamb. Shape into 6 patties.
Brush grill with oil. Grill burgers 5 minutes on each side, or until well done.
Lightly toast buns and build your burgers with 1 tsp tzatziki sauce, 1oz crumbled feta cheese, baby spinach, sliced tomatoes and sliced red onions.
Other garnish suggestions; roasted red peppers, sliced cucumbers or baby greens. Make it your own!
Makes 6 - 5.33oz burgers.
PROFIT POTENTIAL
Approx. Cost - $3.64
Suggested Sell - $10.99 - $12.99
Profit - $7.35 - $9.35
*Includes a provision of $.87 for garnishes