Hydro-One : Small Business Programs

Ontario Hydro has recently created these innovative programs for Small Business users.

Concidering the cost of energy and the relatively high use of electricity in the restaurant and food preperation business, you might find it worth while to investigate these programs by following the links to Hydro One's website and having a read!
Now, more than ever, businesses in Ontario are looking for ways to save costs and be more energy efficient. That's where the SMALL BUSINESS LIGHTING Program comes in. Under this program, qualifying businesses can get up to $1,000 (plus tax) worth in free energy efficient lighting and equipment upgrades.

Reducing peak demand, saving energy, and improving your bottom line. What is the Demand Response Program? Periods of peak demand drive up the price of electricity, put a strain on the electricity grid, and affect its reliability. The DEMAND RESPONSE PROGRAM is designed to compensate participating businesses. All you have to do is reduce your energy consumption when you receive periodic activation notices. You'll earn a significant monthly payment for taking part, and you'll save on your direct energy costs at the same time.

The save ON energy RETROFIT PROGRAM offers you financial incentive to adopt more energy-efficient technologies and improve your bottom line. Participate and Save. The RETROFIT PROGRAM provides financial incentives for replacing inefficient existing equipment with high efficiency equipment that will improve the efficiency of your operational procedures and processes.
Recipes by Gina - Recipe of the Moment
---
Chicken Kiev
---
INGREDIENTS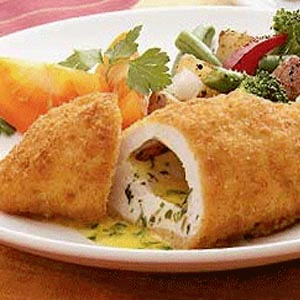 There are other varieties of stuffed chicken.
Try them all, which will be your favourite?"
Chicken Cordon Swiss 7oz   #32520
Chicken with Asparagus & Cheese 5oz   #32531
Chicken with Broccoli & Cheese 7oz   #32530
Chicken with Lobster & Scallops 5oz   #32511
DIRECTIONS - MICROWAVE OVEN *
Remove frozen breast(s) from pouch and place on a microwave safe plate.
Heat breast(s) on high for: 2.5 minutes **
800 watts - 2 min- 3 min**
1100 watts- 1.4 min -3.2 min**
DIRECTIONS - CONVENTIONAL OVEN *
Preheat oven to 350°F.
Remove frozen breast(s) from pouch and place on baking sheet.
Heat in preheated oven for a minimum of 25 minutes.*
**Due to variations in microwaves and ovens,
cooking times may vary.
CAUTION:
Filling will be hot and may splatter; let stand approximately 2 minutes to cool before serving.