Hydro-One : Small Business Programs

Ontario Hydro has recently created these innovative programs for Small Business users.

Concidering the cost of energy and the relatively high use of electricity in the restaurant and food preperation business, you might find it worth while to investigate these programs by following the links to Hydro One's website and having a read!

Now, more than ever, businesses in Ontario are looking for ways to save costs and be more energy efficient. That's where the SMALL BUSINESS LIGHTING Program comes in. Under this program, qualifying businesses can get up to $1,000 (plus tax) worth in free energy efficient lighting and equipment upgrades.

Reducing peak demand, saving energy, and improving your bottom line. What is the Demand Response Program? Periods of peak demand drive up the price of electricity, put a strain on the electricity grid, and affect its reliability. The DEMAND RESPONSE PROGRAM is designed to compensate participating businesses. All you have to do is reduce your energy consumption when you receive periodic activation notices. You'll earn a significant monthly payment for taking part, and you'll save on your direct energy costs at the same time.

The save ON energy RETROFIT PROGRAM offers you financial incentive to adopt more energy-efficient technologies and improve your bottom line. Participate and Save. The RETROFIT PROGRAM provides financial incentives for replacing inefficient existing equipment with high efficiency equipment that will improve the efficiency of your operational procedures and processes.
Recipes by Gina - Recipe of the Moment
---
Veal Scallopini with Mushrooms
---
This recipe is easy to execute even in the busiest of kitchens!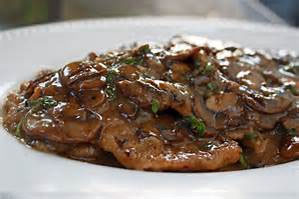 Tender, rich and flavourful, it will satisfy all your guests!
INGREDIENTS
4 veal scallopini
4 Tbsp olive oil, divided
2 Tbsp butter
3 Tbsp all purpose flour
Salt and pepper to taste
1 med portobello mushroom, sliced
6oz Chanterelle mushrooms, sliced
1 1/2 cups chicken broth
1 1/2 tsps fresh rosemary, chopped
1/2 cup red wine
DIRECTIONS
1 - Heat 3 tablespoons olive oil with butter in a skillet over medium-high heat.
2 - Season the veal with salt and pepper and dredge with flour. Sear scallopini until browned, 1 to 2 minutes per side or until juices run clear.
3 - Remove veal from skillet and add mushrooms to the skillet. Sauté for one minute or until mushrooms are soft and fragrant.
4 - Add chicken broth and rosemary; cover, and simmer 10 minutes.
5 - Stir in red wine, increase heat, and cook, uncovered, until sauce is reduced by half.
6 - Return veal to the mushroom sauce for the final 2 minutes.
7 - Drizzle with remaining olive oil. Serve over pasta or with rice or potato and vegetable on the side.
With this recipe you can substitute veal scallopini for: veal cutlet or chops, chicken scallopini, pork chops or pork cutlet!

Makes 4 servings.