Hydro-One : Small Business Programs

Ontario Hydro has recently created these innovative programs for Small Business users.

Concidering the cost of energy and the relatively high use of electricity in the restaurant and food preperation business, you might find it worth while to investigate these programs by following the links to Hydro One's website and having a read!

Now, more than ever, businesses in Ontario are looking for ways to save costs and be more energy efficient. That's where the SMALL BUSINESS LIGHTING Program comes in. Under this program, qualifying businesses can get up to $1,000 (plus tax) worth in free energy efficient lighting and equipment upgrades.

Reducing peak demand, saving energy, and improving your bottom line. What is the Demand Response Program? Periods of peak demand drive up the price of electricity, put a strain on the electricity grid, and affect its reliability. The DEMAND RESPONSE PROGRAM is designed to compensate participating businesses. All you have to do is reduce your energy consumption when you receive periodic activation notices. You'll earn a significant monthly payment for taking part, and you'll save on your direct energy costs at the same time.

The save ON energy RETROFIT PROGRAM offers you financial incentive to adopt more energy-efficient technologies and improve your bottom line. Participate and Save. The RETROFIT PROGRAM provides financial incentives for replacing inefficient existing equipment with high efficiency equipment that will improve the efficiency of your operational procedures and processes.
Recipes by Gina - Recipe of the Moment
---

Grilled Caesar Salad
---
Head to the grill for a savoury twist on Caesar salad with an interesting texture. Altering your caesar dressing for a more intense lemon zing adds to the combination of cool, crisp romaine with a hint of chard flavour. Great on it's own or beside a grilled Great Steak ribeye! Yum!
INGREDIENTS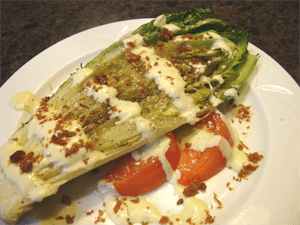 2 tbsp lemon juice   #10210
1/4 cup, plus 1 tsp olive oil   #13736
1/2 cup caesar dressing   #05080
3 romaine hearts, sliced lengthwise in half
Salt and freshly ground black pepper
1/2 cup shaved parmesan cheese   #20690
6 bacon strips, fried and crumbled   #27148
1 cup croutons   #07390
12 cherry tomatoes for garnish   #83053
DIRECTIONS
Combine lemon juice, 1/4 cup of olive oil and caesar dressing in a bowl until well blended.
Gently coat the hearts of romaine in remaining olive oil and season with salt and pepper. Grill for 2 minutes, until grill marks appear and the romaine becomes wilted.
Place the lettuce on the plate and drizzle with the dressing.
Garnish with the shaved parmesan cheese, crumbled bacon, croutons and cherry tomatoes.