Backing Up to Blu-Ray - Might be Your Answer
Remember when a writable DVD was big news. 4.5 Gigs of backup storage, fast, efficient. cheap. Well back then cameras took smaller pics and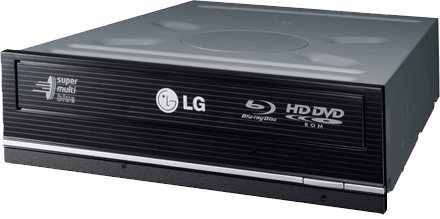 we weren't loading 10's of Gigabytes of movies, videos and music on our computers. Today you can fill a DVD disk pretty quick.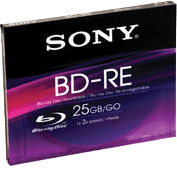 Blu-Ray writers came out a few years ago but the price was higher than most people cared to spend. Today the price of Blu-Ray writes has fallen to the point where you have to ask yourself why don't I have one yet?
A Blu-Ray writer will put approx 23.5 gigs of data on a single disk. That's almost 6 times more than a DVD. Add a piece of software that runs scheduled backups and a re-writable Blu-Ray disk and you have a practical backup solution that might just be the ticket. One such piece of software that I use is called Backup4ALL. The web address of the company that produces and sells the product is www.backup4all.com
In the end, the most important thing about having a backup strategy is to have a backup strategy. However it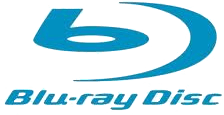 goes without saying that strategies some are better than others. Backing up to a Blu-Ray drive is a pretty good one if the size is suitable to your backup requirements. I met one person who's backup strategy was that the computer was new and came with a warranty, good luck with that one.
Recipes by Gina - Recipe of the Moment
---
Classic Vichyssoise
---
INGREDIENTS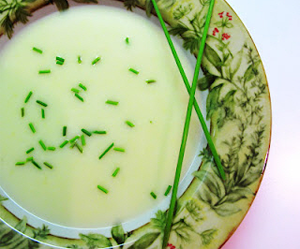 1 tbsp butter   #44110
3 leeks, bulb only, sliced into rings
1 onion, sliced
5 potatoes, peeled and thinly sliced   #87113
salt and pepper to taste
1/4 tsp dried thyme   #14126
1/2 tsp dried marjoram   #13985
1 bay leaf   #13875
5 cups chicken broth   #02863
1/4 cup heavy whipping cream   #44166
1 tsp chives, chopped
DIRECTIONS
In a large stock pot melt butter over low heat.
Add leeks and onion, cover, and cook for 10 minutes.
Add potatoes and season with salt and pepper.
Add thyme, marjoram, bay leaf and stir well.
Cover pot and continue to cook for 12 minutes.
Add chicken stock and bring to a boil, reduce heat and cook, partially covered for 30 minutes.
Puree soup in blender or food processor and cool.
Prior to serving add cream and garnish with chives.
PROFIT POTENTIAL
Approx. Cost - $1.12/serving*
Suggested Sell - $3.99-$5.99
Profit - $2.87-$4.87/serving
*Includes a provision of $0.30 for garlic crostini.