Backing Up to Blu-Ray - Might be Your Answer
Remember when a writable DVD was big news. 4.5 Gigs of backup storage, fast, efficient. cheap. Well back then cameras took smaller pics and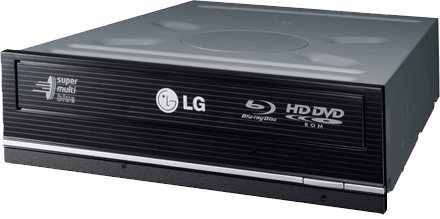 we weren't loading 10's of Gigabytes of movies, videos and music on our computers. Today you can fill a DVD disk pretty quick.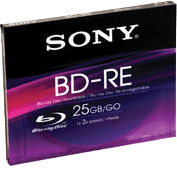 Blu-Ray writers came out a few years ago but the price was higher than most people cared to spend. Today the price of Blu-Ray writes has fallen to the point where you have to ask yourself why don't I have one yet?
A Blu-Ray writer will put approx 23.5 gigs of data on a single disk. That's almost 6 times more than a DVD. Add a piece of software that runs scheduled backups and a re-writable Blu-Ray disk and you have a practical backup solution that might just be the ticket. One such piece of software that I use is called Backup4ALL. The web address of the company that produces and sells the product is www.backup4all.com
In the end, the most important thing about having a backup strategy is to have a backup strategy. However it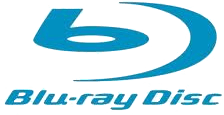 goes without saying that strategies some are better than others. Backing up to a Blu-Ray drive is a pretty good one if the size is suitable to your backup requirements. I met one person who's backup strategy was that the computer was new and came with a warranty, good luck with that one.
Recipes by Gina - Recipe of the Moment
---
Warm Calamari Salad
---
INGREDIENTS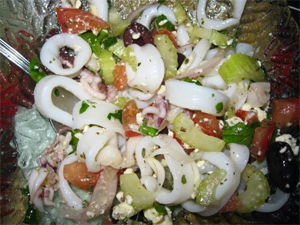 1 1/2 lbs cleaned squid
2 tbsp lemon juice
1 tbsp red wine vinegar
1/3 cup extra virgin olive oil
2 garlic cloves, minced
1/2 tsp salt
1/4 tsp fresh ground black pepper
1 cup thinly sliced red onion
1/3 cup pitted kalamata olives, halved lengthwise
2 cups cherry tomatoes
2 celery ribs, sliced (cut into 1/4-inch-thick slices)
1/2 cup fresh flat leaf parsley, plus more to taste
2 tbsp chopped fresh basil
1/4 cup crumbled feta (optional)
DIRECTIONS
Rinse all the squid under running water and pat dry.
Cut the tentacle bunches in half, and cut the bodies into 1/4 to 1/3-inch wide rings; cut the wings from the bodies.
Fill a 5 or 6 quart pot full of water, add a couple teaspoons of salt, and bring it to a boil.
Prepare a bowl of ice water. Cook all the prepared squid pieces in the boiling water until just opaque, a brief 40 to 60 seconds, then remove from pot and immediately plunge into the ice water to halt the cooking.
When squid has cooled, transfer to a colander, let drain, and pat dry; set aside.
In a small bowl, whisk together the lemon juice, vinegar, oil, garlic, salt, and pepper; add in onion, stir, and let the dressing stand for 5 minutes.
In a large bowl, combine the cooked squid, olives, tomatoes, celery, parsley, basil, and feta (if using), then toss with the dressing.
Let salad stand, tossing occasionally, for at least 15 minutes to allow the flavours to develop.
Note:: Although good eaten right after preparation, it's even better if you chill it for 8 hours, tossing occasionally - then bring it to room temperature before serving (about 1 hour); also, some people prefer the onion to be sautéed lightly before adding it to the salad. Makes 4 main course servings, 8 side dish servings