Menu Pricing Hints
Why should you price your menu ending with .99's vs .95's?
"It's not that much of a difference, 4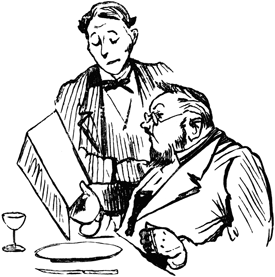 cents doesn't matter"...or does it?
If you serve an average of 200 items per day, here is how it works out:
200 x $.04 = $8.00/day

$8.00 x 365 days year = $2920.00/year

Almost $3000.00 extra from just changing your prices from .95 to .99

Now, if you have a higher end establishment, you might consider rounding your prices to the nearest dollar for a more sophisticated and less bargain look. Again more profit!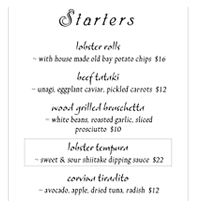 Another trick is to keep your prices next to your descriptions, making them less noticeable. If they are in a column format, customers tend to go down the column and choose the least expensive item.
To figure out what you should charge for an entree, first calculate your cost.
If your cost is $3.20 for a stuffed chicken breast, $0.48 for 6oz of fries and $0.42 for mixed vegetables this is how is should be priced. 3.20 +.48 +.42 = $4.10 - 4.10 x 3.3 = $13.53

You should price this menu item between $11.99 to $14.99 depending on your location, the competition and what your customers are willing to pay.
by Gina Trudeau

from Gina's Corner,
Findlay's Monthly Feature June 2012

Recipes by Gina - Recipe of the Moment
---
Breakfast Pizza
---
INGREDIENTS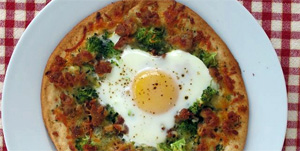 1 pita bread   #36332
2 tbsp tomato sauce   #00699
1 breakfast sausage, cooked & chopped   #24565
2 slices of bacon, cooked & crumbles   #27140
1 tsp grated parmesan cheese   #20690
1/2 cup shredded mozzarella cheese   #20660
1/4 cup broccoli or other vegetable, chopped small
pinch of dried herb (thyme, parsley, basil, or oregano)
pepper, to taste   #14036
1 large egg   #33520
DIRECTIONS
Preheat oven to 425°F.
Place the pita bread on a baking sheet.
Spread the tomato sauce and sprinkle with parmesan cheese, sausage, bacon, chopped vegetable and herb.
Cook 4 minutes.
Remove pizza from oven and add shredded cheeses.
Carefully crack the egg into the center of the pizza.
Sprinkle with fresh ground pepper.
Return to oven for 10 more minutes, or until the egg white is set, but the yolk is still runny.
"As an appetizer, a light lunch option, an easy vegetarian choice on your menu or on a kids menu, these mini pizzas are easy to make and use readily available ingredients."