Menu Pricing Hints
Why should you price your menu ending with .99's vs .95's?
"It's not that much of a difference, 4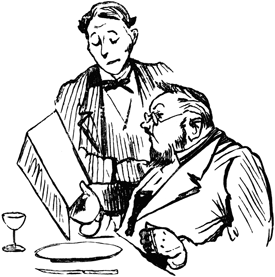 cents doesn't matter"...or does it?
If you serve an average of 200 items per day, here is how it works out:
200 x $.04 = $8.00/day

$8.00 x 365 days year = $2920.00/year

Almost $3000.00 extra from just changing your prices from .95 to .99

Now, if you have a higher end establishment, you might consider rounding your prices to the nearest dollar for a more sophisticated and less bargain look. Again more profit!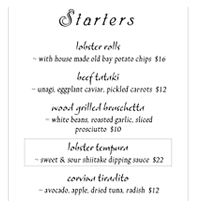 Another trick is to keep your prices next to your descriptions, making them less noticeable. If they are in a column format, customers tend to go down the column and choose the least expensive item.
To figure out what you should charge for an entree, first calculate your cost.
If your cost is $3.20 for a stuffed chicken breast, $0.48 for 6oz of fries and $0.42 for mixed vegetables this is how is should be priced. 3.20 +.48 +.42 = $4.10 - 4.10 x 3.3 = $13.53

You should price this menu item between $11.99 to $14.99 depending on your location, the competition and what your customers are willing to pay.
by Gina Trudeau

from Gina's Corner,
Findlay's Monthly Feature June 2012

Recipes by Gina - Recipe of the Moment
---
Double Chocolate Brownies
---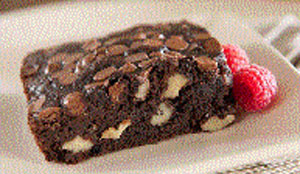 Jump on the growing trend of whole grains and healthier foods. Findlay Foods offers a fantastic line of natural products that will help you create delicious and healthy options. This recipe is courtesy of GoBarley.

INGREDIENTS (Makes approximately 20 brownies)
¾ cup (175 mL) Against the Grains barley flour (#09199)
½ cup (125 mL) unsweetened cocoa powder, sifted (#11054)
¼ tsp (1 mL) salt (#13791)
1 cup (250 mL) honey (#12876)
½ cup (125 mL) butter or margarine, melted (#44178)
2 eggs, lightly beaten (#33520)
3 tbsp (45 mL) water
1 tsp (5 mL) vanilla (#14260)
½ cup (125 mL) chopped walnuts (#11735)
1/3 cup (75 mL) chocolate chips (#09050)

DIRECTIONS
1 - Preheat oven to 325 degrees Fahrenheit.
2 - Grease the bottom of an 8-inch (2 L) square baking pan.
In a large bowl, mix together flour, cocoa powder and salt. Add honey, melted butter or margarine, eggs, water and vanilla, then beat until smooth.
Stir in nuts.
Spread batter evenly in prepared pan. Sprinkle with chocolate chips.
Bake for 30 to 40 minutes or until a cake tester or toothpick inserted in the centre comes out clean.
7 - Let cool completely before cutting into brownies.
NUTRITIONAL INFORMATION (Per brownie):

Calories: 151 Protein: 2 g

Carbohydrate: 20 g Fibre: 1 g

Sugars: 15 g Fat: 9 g

Saturated Fat: 4 g Trans Fat: 0.2 g

Cholesterol: 32 mg Sodium: 77 mg

Potassium: 31 mg