---

Apple Brie Quesadillas
---
INGREDIENTS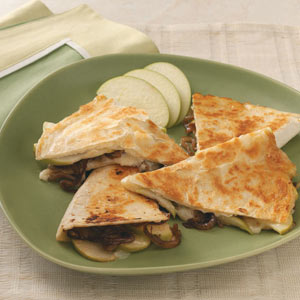 2 medium onions, sliced
1/4 cup balsamic vinegar (#7271)
1/8 tsp sugar (#9580)
1/8 tsp dried thyme   #14125
1/8 tsp dried rosemary   #13899
1 tsp vegetable oil   #13720
4 (10") flour tortillas (#1912)
2 medium tart apples, sliced
8 ounces Brie, rind removed, and quartered
DIRECTIONS
In a skillet over medium heat, cook the onions, vinegar, sugar, thyme and rosemary in oil for 10 minutes or until onions are golden.
Spoon the mixture over half of each tortilla; top with apples and cheese.
Fold over.
Cook on a griddle over medium heat for 2-3 minutes on each side or until cheese is melted.