---

Smoked Cheddar, Lettuce & Tomato Sandwich
---
INGREDIENTS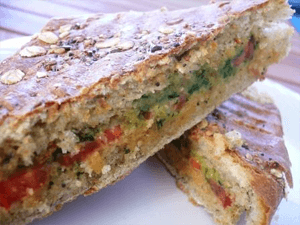 2oz of smoked cheddar cheese   #20620
2oz of cream cheese   #20815
1 tbsp of butter   #44115
A handful of arugula lettuce
3-4 tomato slices   #87054
Multi-Grain demi baguette or pretzel bun   #36625
DIRECTIONS
In a food processor mix together the cheeses, butter and arugula. Mix together until it becomes a puree.
Spread a generous amount of the cheese puree onto both sides of the bread. Layer the tomato slices in the bottom half and top with the other bread half.
Press in a Panini press or a grill for about 5 minutes until the cheese is melted.