---
Crispy Nutty Veal
---
INGREDIENTS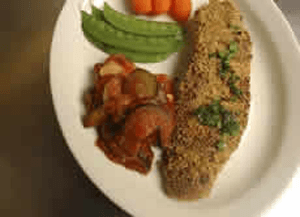 1/2 lb veal cutlets   #28255
1/4 cup cornmeal   #09115
2 tbsp pecans   #11697
1 egg white   #33635
2 tsp olive oil   #13736
Salt and freshly ground pepper
DIRECTIONS
Season the cornmeal with salt and pepper to taste.
Chop pecans in a food processor or by hand and mix with cornmeal.
Lightly beat egg white.
Dip veal into egg white and then cornmeal mixture, coating both sides well.
Heat olive oil in a nonstick skillet on medium-high heat.
Sautee veal approximately 2 minutes on each side.
Serve the veal with ratatouille, roasted vegetables or crisp steamed vegetables.