---

Smoked Duck, Dried Cranberries and Spiced Pecan Salad
---
INGREDIENTS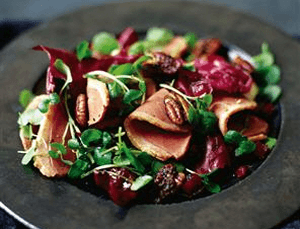 SALAD:
35g pecans
15g butter
1/2 tsp ground mixed spice
1 tbsp soft dark brown sugar
2 x 85g bags watercress
2 red chicory, leaves separated
75g dried cranberries, soaked in boiled water for 5 minutes,drained
200g sliced smoked duck breast
DRESSING:
1/2 tsp Dijon mustard
11/2 tbsp red wine vinegar
3 tbsp olive oil
41/2 tbsp hazelnut oil
1 tsp crème de cassis
DIRECTIONS
Put the nuts into a hot, dry frying pan over medium heat and toast for about 30 seconds. Add the butter, mixed spice and sugar, reduce the heat slightly and cook for 11/2-2 minutes, turning halfway. The nuts should be caramelised, but be careful not to burn them. Season and spread out on a tray to cool.
Meanwhile, make the dressing. Put the mustard and vinegar in a small bowl, then whisk in the oils. Add the crème de cassis in 2 stages, so you can check for sweetness. Season.
In a bowl, toss the watercress, chicory, cranberries and nuts with most of the dressing. Divide between plates, arrange the duck on top and drizzle with the rest of the dressing.