---

Seared Chicken Breast

---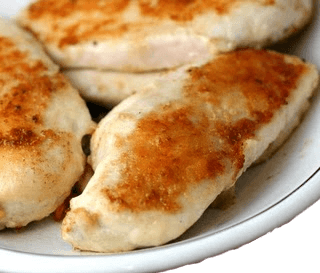 INGREDIENTS
4 chicken breasts (bnls/skls)
Kosher salt and freshly ground black pepper
Flour for dredging
Ingredients for pan sauce (see recipes to the right)
3 tbsp unsalted butter
1 tbsp olive oil
DIRECTIONS
Season the chicken breasts on both sides with ample salt and pepper. Put a handful of flour in a pie pan or other sided plate and position it near the stove. Combine the sauce ingredients (see options below) of your choice in a 1-cup Pyrex measuring cup or small bowl.
Heat 2 tablespoons of the butter and the oil in a large skillet over medium heat. Dredge one of the chicken breasts in the flour, coating both sides well but shaking off any excess. Increase the heat of the pan to medium high.
Before adding the chicken, test the heat of the pan by flicking in a little of the dredging flour. If the flour sizzles enthusiastically and immediately turns golden, the pan is ready. Add the first floured chicken breast. Then quickly flour the remaining breasts and add them to the pan. Cook for about 4 minutes without moving the breasts. Then, starting with the first one in the pan, turn them over and cook for another 3 or 4 minutes on the other side.
Transfer the chicken to a plate or plates and keep it warm. Add the pan sauce ingredients to the hot pan and boil, stirring and scraping up the browned bits in the bottom of the pan over high heat until the liquid is reduced by half. Add the remaining tablespoon of butter and whisk until smooth and glossy. (Tilt the pan to bring the small amount of liquid to one side while you whisk in the butter.) Spoon the sauce over the chicken and serve immediately.