---

Maple Mozza Bacon Burger

---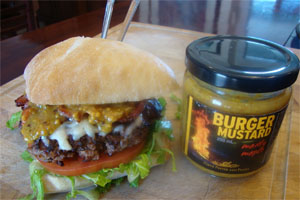 Sink your teeth into this delicious burger!
Full of sweet maple flavour and a unique texture,
your customers will be raving about it!
INGREDIENTS
DIRECTIONS
Char broil your burger, fry the bacon and toast your bun on the grill.
Just when the burger is almost done, top with mozzarella cheese and let it melt.
Remove your bun from the grill and top with lettuce and tomato. Place your burger next, then the bacon.
Finally top your beautiful burger with our Madly Maple Burger Mustard.
Admire, devour and enjoy!
"Using premium condiments allows for a premium price and generates a premium profit!"
PROFIT POTENTIAL
Approx. Cost - $4.33
Suggested Sell - $12.99 - $15.99
Profit - $8.66 - $11.66
*Includes a provision of $.97 for golden crisp fries.