---
Cape Capensis with Heirloom Tomato Bruschetta
---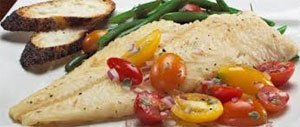 The colourful array of heirloom tomatoes makes this Cape Capensis dish an eye-catching entrée.
INGREDIENTS
2 cups baby heirloom tomatoes, halved or quartered
1/3 cup olive oil
¼ cup chopped red onion
8 Toppits Basil Pop Herbs
Salt and pepper, to taste
½ lb green beans
2 tablespoons lemon juice
4 Toppits Cape Capensis Fillets
1/2 cup flour for dusting
2 tablespoon oil
DIRECTIONS
Combine tomatoes, 1/3 cup olive oil, onion, basil cubes, salt and pepper together and set aside.
Lightly blanch green beans for 2 to 3 minutes, drain and toss with lemon juice, salt and pepper.
Season flour with salt and pepper, then lightly dust fish with flour.
Heat oil at medium heat in frying pan. Cook fish for 2-3 minutes per side.
To plate, put beans on plate first, place fish on beans then spoon tomato mixture over fish.
PROFIT POTENTIAL (One 5-7oz portions per entrée)
Approx. Cost - $4.08/entree
Suggested Sell - $12.99-$15.99/entrée
Profit - $8.81-$11.81/entrée
*Includes a provision of $1.45 for green beans, seasoned rice and roasted garlic butter crostini.