---

Jumbo Ravioli with Spinach Pesto

---
INGREDIENTS: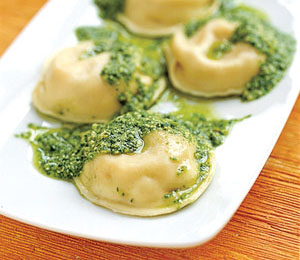 6oz Fresh Baby Spinach
1oz Garlic (chopped)   #05225
1/8 tsp Black Pepper
1/2 cup Pine Nuts (toasted)   #11725
1 tbsp Butter   #44115
1/2 cup Parmesan (grated)   #20690
20 Jumbo Cheese Ravioli   #33720
1/2 cup Olive Oil   #13736
DIRECTIONS:
Bring a large pot of lightly salted water to a boil.
In a food processor, combine spinach, garlic, pine nuts, parmesan, olive oil, salt and pepper. Pulse until blended and smooth. Set aside. Makes 1-1/2 cups pesto, enough for 4 meals.
Add ravioli to boiling water; cook according to the directions. Drain pasta, return to pot and add butter. Gently toss to coat ravioli with the melting butter.
Arrange 5 ravioli on plates and creatively place the pesto on them.
Serve with grilled garlic flat bread wedges and a fresh garden salad to start.
You can refrigerate pesto sauce for up to 1 week.
These jumbo ravioli can also be served alongside tasty meatballs dressed in a flavourful marinara.
Just a little different from your usual spaghetti and meatballs.
PROFIT POTENTIAL per MEAL
Approx. Cost - $5.90
Suggested Sell - $15.99 - $18.99
Profit - $10.09 - $13.09
*Includes a provision of
$.1.60 for garlic flat bread & salad.