---
Thyme & Lemon Duck Confit Pasta
---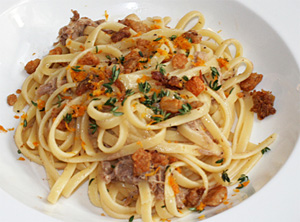 DIRECTIONS (Makes 4 Servings)
Cook pasta according to package directions.
Pick all of the meat off the duck legs and reserve the skin. Tear the meat and skin into small pieces.
Heat a large sauté pan over medium-high heat for 2 minutes. Add the butter, duck fat, the duck skin. Cook for 2 minutes until skin is crispy.
Add the garlic, rosemary and duck meat to the sauté pan. Cook 1-2 minutes, then remove from heat.
Drain the pasta and add it to the sauté pan. Over medium heat, toss the ingredients in the sauté pan, making sure they are well coated. Add more duck fat if needed.
Add black pepper and 1 tablespoon of the lemon juice and toss again. Taste and add more lemon juice if desired. Plate immediately with the lemon zest sprinkled on top. Serve with a buttery garlic loaf.
PROFIT POTENTIAL

Approx. Cost - $4.48

Suggested Sell - $13.99 - $17.99

Profit: $9.51 - $12.51

*Includes a provision of $.92 for garlic loaf.