---
PAN BAGNAT
---
INGREDIENTS: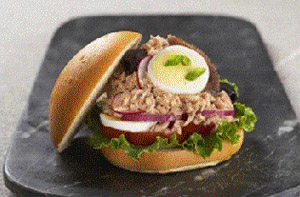 Brioche burger bun
Red onion, finely chopped or thinly sliced (to taste)
Olive oil
Red wine vinegar
Chunk light tuna
Lemon juice
Salt and pepper
Leaf lettuce
Tomato, sliced
Anchovy fillets, drained (optional)
Niçoise olives, pitted
Hard-boiled egg, sliced
Green onion, finely chopped
Radish, thinly sliced
PREPARATION:
Combine the onion, olive oil and wine vinegar, then add salt and pepper.
Add in the tuna and mix the ingredients gently.
Season with lemon juice, if desired.
On the bottom slice of the bun, place the lettuce, tomato, tuna preparation and egg slices.
Garnish with anchovy fillets, a few olives, green onion and radish.
Drizzle with a dash of olive oil.