Spring Cleaning 101

After a long snow filled winter, spring is finally here and time to do some spring cleaning and organizing!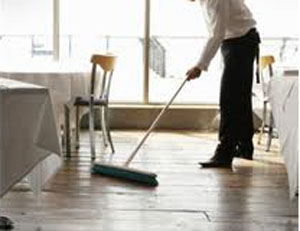 Keeping your establishment super clean should always be a top priority...after all you are working with food and everything should be as sanitary as possible! Here is a list that will help keep you on track.


ENTRYWAYS:
This is where things get really messy, with all the sand and salt, your entryways can look pretty beat up after winter! Start with the walls and work your way down cleaning crevasses where dirt and dust collect. Wipe down coat rack, buffet and chairs if any.


MATS:
Make sure that you have adequate floor mats at your entryways to handle the April rains and mud. Changing and/or cleaning them on a regular basis will keep the mud tracking to a minimum and save your floors and carpets from further soiling.

RESTROOMS:
Spring is the perfect time to spruce up your bathrooms. A deep cleaning and deodorizing will help refresh the space. Don't forget to clean out the grout and to remove any buildup and grime.


AIR CONDITIONING UNITS:
With the warm weather just around the corner, your AC unit will be in demand shortly. Take this time to schedule a service and cleaning so you are prepared.


EXHAUST HOOD:
Your exhaust hood should be professionally cleaned in the spring and in the fall. A clean hood allows for proper ventilation, which will keep everything else in your restaurant cleaner! The vents should be on a weekly or bi-weekly cleaning schedule.


DEFROST & CLEAN ICE MACHINES & FREEZERS:
Keeping clean freezers is not only good for your units life but the life of your frozen food. They run more efficiently, keeping the proper temperature which will save you money in the long run. This chore should be accomplished in the spring and fall.


WALLS & CEILINGS:
It's amazing how many restaurants don't wipe down walls and ceilings. This is the fastest, easiest and most inexpensive way to refresh your space. A fresh smelling all purpose cleaner, a sponge and/or sponge mop, gloves and a small step ladder is all you need. Even though it seems daunting, if you schedule one wall per day or per shift, to be cleaned, this chore will be done in no time and the result is incredible!


CARPETS & DRAPES or BLINDS:
Mid May is the perfect time to have your carpets deep-cleaned. April can sometimes be muddy and rainy. Do it yourself or hire a professional, it will prolong the life of your carpet. Window treatments should be due for a good cleaning by mid-April as well.
At Findlay Foods we offer Tri-clean, an exclusive line of cleaners, deodorizers and degreasers to help keep your establishment looking and smelling its best!

Ask your representative for a list of this exclusive line of products or visit our website at www.findlayfoods.com for more information.