"The customer experience" is so important for repeat business and word of mouth advertising.
You can settle for a satisfied customer who will come in once a month or a "wowed customer"
who will think of you and return the next time they decide to eat out.
There are 7.3 million visits to restaurants daily in Ontario.
People are eating out...but are they coming back to your place?
Ordinary acts that you do everyday can be made extraordinary with a little thought.
Simple things that will make your customers remember you and your restaurant
and make them want to come back.
Tips on how to WOW a customer:
Engage them! (It's all about them)
Big smile..."We have been expecting your Mr. and Mrs. Powell, I have reserved your favorite table for you! or "So glad to see you again Paul, since you said you might be in town today, I asked the chef to prepare your favorite soup!"
Create a memorable experience (something that makes them feel special and noticed).
Pull out their chair, offer to hang their coat or open their menu for them, remember their name.
If they are first time guests, let the owner/manager know so they can introduce themselves and invite them back!
Come over with their usual drink order, without them having to order it.
Extend a compliment, notice it they had a hair cut or if they are wearing something out of the ordinary.
Offer complimentary newspapers in the morning for your customers to read.
Invite them back! (a reason to return) - Personally invite your guests back to see you.
Recipes by Gina - Recipe of the Moment
---
Braised Short Ribs
---
INGREDIENT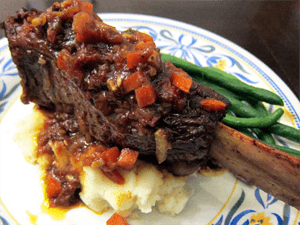 12 bone-in short ribs (4.75kg)   #29481
Kosher salt   #13792
Extra-virgin olive oil   #13734
2 large Spanish onion, finely chopped   #87038
4 ribs celery, finely chopped   #87016
3 carrots, finely chopped   #87055
5 cloves garlic, pressed   #87135
3 tbsp dijon mustard   #07060
3 tbsp brown sugar   #09603
1 cups tomato paste   #00714
4 cups red wine
4 cups chicken broth   #03607
4 sprigs of fresh thyme, tied
3 bay leaves   #13873
DIRECTIONS
Season short ribs with salt. Coat a pot large enough to fit all the meat and vegetables with olive oil and bring to a high heat. Add the short ribs to the pan and brown well, about 2 to 3 minutes per side.
Preheat the oven to 375 degrees F.
When the short ribs are very brown on all sides, remove them from the pan. Drain the fat, coat the bottom of same pan with fresh oil and add the chopped vegetables and garlic. Season with salt and brown until very dark and a crust forms on the bottom of the pan, approximately 5 to 7 minutes. Scrape the crust again and add brown sugar, mustard and tomato paste. Cook for 4 to 5 minutes. Add the wine and scrape the bottom of the pan. Turn heat to medium and reduce the mixture by half.
Return the short ribs to the pan and add broth, thyme and bay leaves. Cover the pan and place in the preheated oven for 3 hours.
Check periodically and add water, if needed. Turn the ribs over halfway through the cooking time. Remove the lid during the last 20 minutes of cooking to let the sauce reduce.
Serve over garlic mashed potatoes, with the braising sauce and a side of asparagus   #18100.