---
Buttermilk Pecan Chicken
---
INGREDIENTS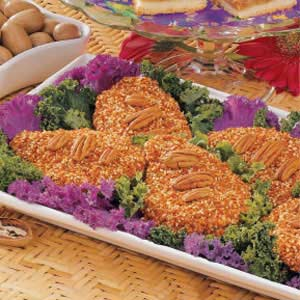 1 cup ground pecans   #11697
1/4 cup sesame seeds   #14149
1 Tbsp paprika   #14165
A pinch of salt and pepper
1 cup all-purpose flour   #09125
1/2 cup buttermilk   #44183
6 boneless, skinless chicken breast halves   #31653
2 Tbsp butter or margarine, melted   #44125

DIRECTIONS
In a bowl, combine pecans, sesame seeds, paprika, salt and pepper.
Place flour and buttermilk in separate bowls.
Coat chicken with flour, dip in buttermilk & coat with pecan mixture.
Place in a greased baking dish. Drizzle with butter.
Bake, uncovered, at 375 degrees F for 30-35 minutes or until juices run clear.