---

Pork Fillet with Whole Grain Mustard Sauce
---
INGREDIENTS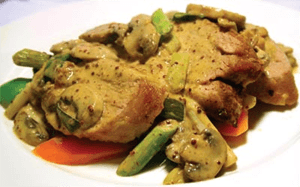 45 ml canola oil plus - No Trans Fat   #13752
30 g butter   #44110
325 g onions - thinly sliced   #87035
675 g pork tenderloin   #66562
60 ml white wine
200 ml boiling water
15 g Rose Hill Chicken Base   #02866
80 g whole grain mustard 10 g cornstarch   #09103
100 ml cream   #44166
3 tbsp coriander - freshly chopped
salt to taste   #13790
freshly ground black pepper to taste   #13877
DIRECTIONS
Place oil and butter in a pan, and cook over low heat.
Add onions and cook until soft and translucent, but not brown.
Trim any membrane from the pork and cut the meat across the grain into 2.5cm thick medallions. Season with salt and pepper.
Using a slotted spoon, remove the onions from the pan and set aside.
Increase the heat to medium-high and quickly brown the pork on both sides. Remove and set aside.
Add the wine to the pan.
Pour water over chicken base and mix well.
Add stock and mustard to pan and stir well.
Return meat and onions to pan. Cover, reduce heat and simmer for about 20 minutes until pork is cooked.
Using a slotted spoon, remove the meat and onions and keep warm.
Stir the cornstarch into the fresh cream and whisk the mixture into the cooking liquid in the pan. Simmer until sauce thickens.
Stir in coriander and pour sauce over pork.