---

Hearty Minestrone
---
INGREDIENTS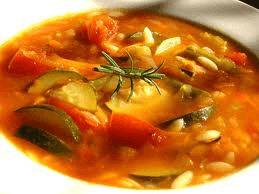 ¼ cup olive oil   #13736
2 oz diced bacon   #27124
1 med onion, chopped   #87035
2 carrots, sliced   #87056
2 stalks celery, sliced   #87016
3 cloves garlic, minced   #87135
1 potato, peeled and diced   #87113
6 oz frozen greens
2 small zucchini, diced   #87085
8 oz. cauliflower   #87161
¾ cup dry navy beans, cooked   #02140
1 15 oz. can diced tomatoes with juices   #00695
6 cups beef stock   #02893
2 cups water
1 tsp. each dried thyme, oregano, basil
A few stems of fresh parsley chopped
Salt, pepper and parmesan
DIRECTIONS
Warm the olive oil in a large soup pot over medium heat. Add bacon and cook for 2 to 3 minutes.
Begin adding vegetables in the order presented above, up to and including the cauliflower, one at a time and cooking each addition 2 to 3 minutes. If you wish, you can prepare each one as the previous is added instead of preparing all in advance.
At this point, salt and pepper lightly, starting with about 1 tsp. salt. Add the tomatoes, stock, water, and herbs and bring to a simmer. Simmer gently for one hour. Taste for salt.
Add the beans and simmer again for 15 minutes. The soup should never be watery or thin but rather substantial. If it appears too thick for your taste add a bit more stock. If it appears to thin, continue to cook it, uncovered, until more liquid evaporates. Taste again and adjust seasonings. Serve with a sprinkle of parmesan. Serves 6.