---
40 Creek BBQ Pork Side Ribs
---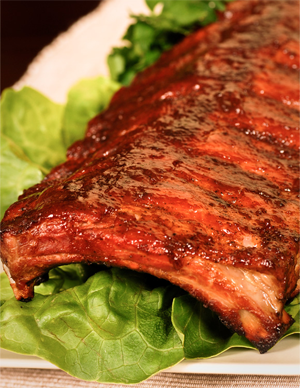 INGREDIENTS
5 pounds pork side ribs, center cut   #26806
1/2 cup butter   #44110
1 medium onion, chopped
1 tbsp minced garlic
1/2 cup white vinegar   #07270
1 cup water
1/2 cup ketchup   #06975
1 1/2 cup 40 creek bbq sauce   #06370
1 lemon, juiced   #10262
salt and pepper to taste

DIRECTIONS
Place ribs in large skillet or roasting pan.
Cover with lightly salted water and bring to a boil.
Reduce heat to low and simmer for 1 hour or until meat is tender but not quite falling off the bone.
Meanwhile, melt butter in a saucepan over medium heat.
Cook the onion and garlic in butter until they are tender; remove from heat.
In a blender, combine water, vinegar, ketchup, 40 creek bbq sauce and lemon juice.
Pour in the melted butter mixture and puree for 1 minute.
Pour into a saucepan and season to taste with salt and pepper.
Bring to a boil then remove from heat.
Remove ribs from heat and drain.
Place in a roasting pan and cover with sauce.
Then cover roasting pan and refrigerate for at least 2 hours.
Reserving about a cup of sauce for basting.
Grill ribs for 10 to 20 minutes or until well browned, basting with sauce and turning frequently.