---
Simple Gazpacho
---
INGREDIENTS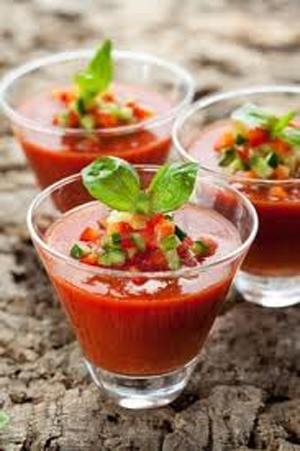 1 english cucumber, seeded, but not peeled
2 red bell peppers, cored and seeded
4 tomatoes
1 small red onion
2 garlic cloves, minced
1 tbsp fresh parsley or cilantro, chopped
3 cups V-8 juice   #10285
1/4 cup balsamic vinegar   #07271
1/4 cup olive oil   #13736
1tsp Worchestershire sauce   #06528
1/2 tbsp kosher salt   #13792
1 tsp freshly ground black pepper
DIRECTIONS
Roughly dice the bell peppers and red onion.
Pulse in a blender until it is coarsely chopped.
Do not overprocess!
Grate cucumber and tomatoes then combine all vegetables in a large bowl.
Add the garlic, herbs, V-8 juice, vinegar, olive oil, Worcestershire sauce, salt and pepper to bowl.
Mix well and chill for at least 2 hours before serving.
The longer gazpacho sits, the more the flavours develop.
PROFIT POTENTIAL
Approx. Cost - $1.30/serving*
Suggested Sell - $3.99-$5.99
Profit - $2.69-$4.69/serving
*Includes a provision of $.30 for garlic stick.