---
Lobster Corn Chowder
---
INGREDIENTS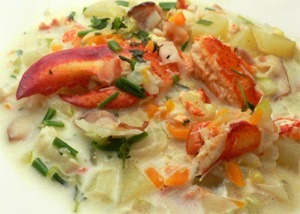 8 oz can of frozen lobster meat, thawed and chopped in large chunks   #42471
1 tbsp olive oil   #13734
3 cups of chicken broth   #02895
2 cups of lobster/seafood stock   #02902
2 cups of frozen peaches and cream corn   #18167
3 strips of bacon, diced   #27125
1 yellow onion, chopped
1 small leek, chopped (white only)   #87180
1 large carrot, diced   #87055
3 celery stalks, diced   #87016
1 small yellow pepper, diced   #87024
2 cups of heavy cream   #44166
1 cup of sherry
2 medium Yukon Gold potatoes, diced, 1/2" cubes   #87110
Salt and pepper to taste
1 tsp dry thyme   #14125
Garnish with chopped fresh chives   #87129
DIRECTIONS
Pour chicken broth, lobster broth & wine into a large pot.
Bring to a simmer and cook until reduced to about 2 1/2 cups, 25 - 30 minutes.
In a Dutch oven over medium heat, saute bacon, stirring occasionally until crispy and browned, 3 - 4 minutes.
Add onion, carrots, celery, peppers and corn kernels and saute stirring until tender, 4 - 5 minutes.
Add broth to Dutch oven, add cream and sherry and bring to a simmer. Stir in potatoes, return to a simmer and reduce heat to a medium-low. Cook until potatoes are tender - about 15 - 20 minutes.
Stir in lobster meat, salt, pepper, thyme and 1/2 the chives. Cook stirring occasionally until lobster is heated through, 2 - 3 minutes. Adjust seasoning as needed.
PROFIT POTENTIAL
Approx. Cost - $1.78/8oz serving
Suggested Sell - $4.99 - $6.99
Profit - $3.21 - $5.21/serving
*Includes a provision of $.35 for a slice of garlic crusty bread.