---
Seared Tuna with Japanese Salsa
---
Quickly seared albacore tuna gets topped with a soy- and lemon-flavored salsa in this light and speedy meal.
One of my personal favourites!
INGREDIENTS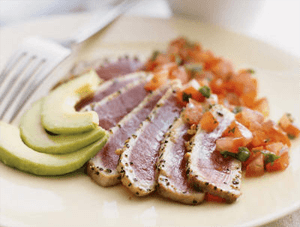 2 tuna steaks (5 to 6 oz. each)
1 tsp minced garlic
Salt and pepper
2 tsp vegetable oil
1/4 cup sake
2 tbsp soy sauce
3/4 cup finely chopped tomatoes
2 tbsp finely chopped green onion
1 tbsp chopped fresh cilantro
1 tbsp lemon juice
6 to 8 slices peeled avocado
DIRECTIONS
Rinse tuna; pat dry. Coat garlic on tuna; sprinkle with salt and pepper. Pour oil into an 8- to 10-inch nonstick frying pan over medium-high heat. When hot, add tuna. Cook, turning once, until lightly browned on both sides, about 1 minute per side. Pour sake and 1 tablespoon soy sauce around steaks; remove from heat. Let cool, turning fish often.
Meanwhile, in a small bowl, mix tomatoes, green onion, cilantro, lemon juice, and remaining tablespoon soy sauce.
Lift tuna from sake mixture, reserving juices. Cut fish across the grain into 1/4-inch-thick slices and lay on plates. Garnish with the salsa and avocado slices. If desired, spoon pan juices equally over tuna. Serve with a side of steamed basmati rice.