---
Pork Leg Roast
---
INGREDIENTS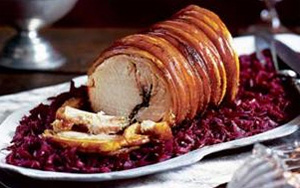 7 sprigs fresh rosemary
2 garlic cloves
1 tsp garlic plus seasoning
1 tsp sea salt
1 tbsp olive oil
7.5kg pork leg roast, scored, net & twine removed
DIRECTIONS
Preheat oven to 200°F. Place rosemary in roasting pan, drizzle with oil and cook for 8-10 minutes until dry and crispy. Remove from oven, cool and remove rosemary leaves from stem.
In a food processor add rosemary, salt, garlic cloves, garlic seasoning and pulse until just incorporated.
Turn oven up to 425°F.
Rub herb mixture all over the pork roast, working into the score marks.
Place pork on a rack and then on a baking pan, fat side up.
Cook for about 30 minutes to crisp the fat and seal in juices.
Turn oven down to 325°F and continue cooking for approximately 5 hours or until the internal temperature reads 160°F.
Remove pork from oven and let it rest for 40 minutes.
Slice roast and serve with crackling and remaining pan juices.
You can also whip up a pork gravy with the pan juices if you so desire.
This holiday season try offering a pork roast! Traditional roast beef and turkey is wonderful but offering a pork roast is a pleasant compliment to your holiday dinner menu and buffets. Serve with a sweet side such as sweet potato puree or an eye catching side such as red cabbage with pears and apples.
Note: Try not to pierce the roast, for it will let all the juices out and it will be dry. Use tongs to remove from pan.