---
Red Cabbage with Pears and Apples
---
INGREDIENTS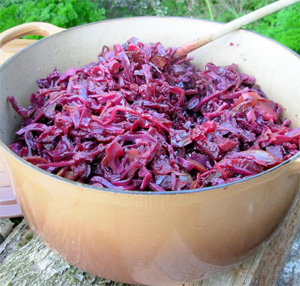 1/3 cup butter
4 spanish onions, finely sliced
4 garlic cloves, finely minced
1/2 tsp cinnamon
1/2 tsp ground nutmeg
1/4 tsp freshly ground pepper and salt to taste
4 tbsp brown sugar
2 small red cabbages, cored and finely sliced
1/4 cup red wine vinegar
2 apples. cored and finely sliced
2 pears, cored and finely sliced
DIRECTIONS
Heat an ex-large skillet over medium-high heat.
Add butter, onion, garlic and sauté 3 minutes.
Add cabbage, sauté until it wilts, 6 to 8 minutes.
Add vinegar to the pan and fold cabbage in it.
Add apples and pears and sauté for 3 to 4 minutes.
Add seasonings and sugar and fold over until well incorporated with the cabbage and fruit.
Reduce heat and let cabbage continue to cook, stirring occasionally for another 10-15 minutes longer.