---
Breakfast Pizza
---
INGREDIENTS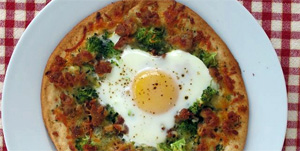 1 pita bread   #36332
2 tbsp tomato sauce   #00699
1 breakfast sausage, cooked & chopped   #24565
2 slices of bacon, cooked & crumbles   #27140
1 tsp grated parmesan cheese   #20690
1/2 cup shredded mozzarella cheese   #20660
1/4 cup broccoli or other vegetable, chopped small
pinch of dried herb (thyme, parsley, basil, or oregano)
pepper, to taste   #14036
1 large egg   #33520
DIRECTIONS
Preheat oven to 425°F.
Place the pita bread on a baking sheet.
Spread the tomato sauce and sprinkle with parmesan cheese, sausage, bacon, chopped vegetable and herb.
Cook 4 minutes.
Remove pizza from oven and add shredded cheeses.
Carefully crack the egg into the center of the pizza.
Sprinkle with fresh ground pepper.
Return to oven for 10 more minutes, or until the egg white is set, but the yolk is still runny.
"As an appetizer, a light lunch option, an easy vegetarian choice on your menu or on a kids menu, these mini pizzas are easy to make and use readily available ingredients."