---
Blue Cheese Bison Burger
---
INGREDIENTS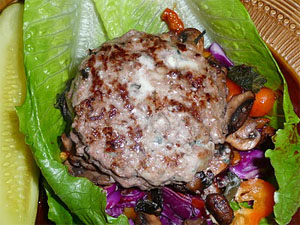 5 lbs. Ground Bison
5 tsp Olive Oil
2½ cups Chopped Red Onions
5 cup Chopped Mushrooms
1½ cups Diana's Barbecue Sauce
15 ounces Blue Cheese
Ground Black Pepper & Sea Salt to taste
DIRECTIONS:
Clean and oil grill.
Preheat to medium high.
Warm olive oil in a pan over med-high heat.
Add onion and mushrooms and sauté until soft and tender.
Remove from heat.
Divide bison into 30 equal sections and press flat.
Make a small well in 15 pattys and add approximately 1tbsp of veggies and 1oz of blue cheese to each.
Slice your blue cheese to flat chunks as to allow the burger to cook more evenly.
Place the other pattys on top of the filled pattys and press to seal.
Brush barbeque sauce over the top of each burger and season with freshly ground pepper and sea salt.
Grill over direct heat 7 minutes on the first side and then 3-4 minutes on second side (for med-med/well).
Keep brushing on barbeque sauce while grilling.
Serve on a bun or wrapped in lettuce with condiments of your choice: lettuce, tomato, onion, mustard, Frank's hot sauce and other.