---
Chicken Burger Toppping Ideas!
---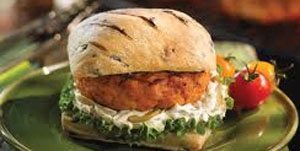 Lettuce, tomato & mayonnaise are great...but there are so many other ways you can top your chicken burger. Think outside the box.
Create something different!
THE MEXICAN - HOLA!
Salsa, Tabasco green pepper sauce & avocado.
CHICKEN for BREAKFAST
Peameal bacon, fried egg & mayonnaise.
A HINT of GREEK
Tzatziki sauce, crumbled feta & tomato.
SOUTH of the BORDER
Grilled red onion, grilled peppers & bold BBQ sauce.
ASIAN INSPIRED
Bean sprouts, sweet chili thai sauce & sesame seeds.
ITALIAN BLISS
Sundried tomato, garlic aioli & mozzarella
ALSO TRY;
garlic aioli & avocado
bacon, cheddar & swiss cheese
shredded lettuce, ranch dressing & Diana's chicken & rib BBQ sauce
Monterey Jack & grilled pineapple.

At Findlay Foods we offer an extensive variety of buns and breads to suit your flavour profile. From soft buns to chewy ciabatta's and healthy whole grain breads. Ask your representative