---
Leek & Pea Risotto with Grilled Calamari
---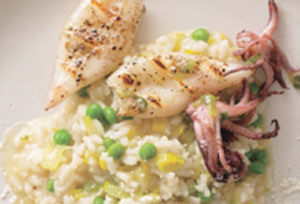 INGREDIENTS
6 cups chicken stock
5 tbsp extra-virgin olive oil, divided
1 tsp fresh lemon juice
1 scallion, thinly sliced
2 medium leeks (white & pale green parts), thinly sliced and washed
1 1/4 cups Arborio rice
1/4 cup dry white wine
1/2 cup frozen peas
2 tbsp unsalted butter
1/3 cup grated Parmigiano-Reggiano
1 lb Squid (Tubes & Tentacles)   #42754
DIRECTIONS
Bring stock to a bare simmer in a medium saucepan.
Whisk together 2 tbsp oil, lemon juice, scallion, 1/4 tsp salt & 1/8 tsp pepper in a medium bowl to make vinaigrette.
Cook leeks in 2 tbsp oil in a 4-quart heavy pot over medium heat, stirring occasionally, until softened, 7 to 8 min. Transfer to a plate.
Add remaining tbsp oil and rice to pot and cook, stirring constantly, until rice is coated evenly, about 1 min. Add wine and briskly simmer, stirring, until most has been absorbed, about 1 min.
Add 1 cup hot stock and briskly simmer, stirring constantly, until stock has been absorbed. Continue adding hot stock, 1 cup at a time, stirring constantly and allowing each addition to be absorbed before adding the next, until 1 cup stock is left, 15 to 18 min. Add peas, leeks, and remaining cup stock and cook, stirring, until rice is just tender, 3 to 5 min. Stir in butter and cheese, then remove from heat.
Heat grill pan over high heat until hot. Season squid with 1/8 tsp salt and oil grill pan. Grill squid, pressing down with a spatula and turning halfway through, until opaque and just cooked through, about 1 min total. Toss with enough lemon vinaigrette to coat.
Serve risotto topped with calamari and drizzled with any remaining lemon vinaigrette.
The delicate, springlike combination of leeks and peas is given texture and heft with the addition of calamari, turning it into a main course. A delightful Mother's Day meal!