---

Pineapple Cola Ham

---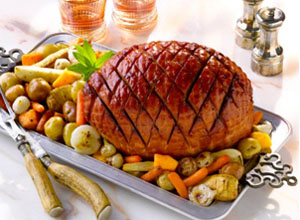 The combination of grape juice, pineapple and cola really makes a wonderful pan sauce for your ham. The added burst of flavour from the mustard seeds in the sweet mustard and the sweetness of the brown sugar makes this recipe unforgettable.
Serve it alongside scalloped potatoes and green beans for Thanksgiving or anytime. It's really delicious!
INGREDIENTS
1 - 8lb fully cooked ham #27155
1 1/2 cups brown sugar #09603
19oz can of pineapple rings with juice #12185
1 cup grape juice
1/2 cups maple syrup #11375
1 can (12oz) cola #10067
2 tbsp original sweet mustard #07078
1/4 tsp ground ginger #13970
1/4 tsp ground cinnamon #13920
DIRECTIONS
Preheat the oven to 325 degrees F (165 degrees C).
Use a knife to score a diagonal pattern onto the ham with the lines about 1 inch apart. Place the ham in a large roasting pan and pat brown sugar over the entire surface. Some will fall into the pan, that's okay.
Bake the ham in the preheated oven until the sugar is melting off of it, about 30 minutes.
Meanwhile combine pineapple juice, grape juice, maple syrup, cola, mustard, ginger, and cinnamon in a bowl.
Remove the ham from the oven and pour cola mixture over ham and return it to the oven.
Continue to bake, basting every 20 minutes, for about 2 hours. Remove the ham from the oven and float the pineapple rings in the drippings. Allow the ham to rest for about 10 minutes, then slice and serve with the pineapple rings and sauce.
PROFIT POTENTIAL
Approx. Cost - $3.59 (8oz portion)
Suggested Sell - $12.99 - $14.99
Profit - $9.40 - $11.40
*Includes a provision of $1.22 for potatoes and beans.