---

Spicy Sausage Pasta Alfredo

---
Give your customers a little spice with this recipe... Easy to execute and full of flavour!
INGREDIENTS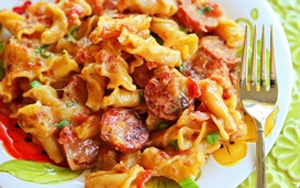 3 suicide sausages
1 medium sweet bell pepper, diced
1 cup sliced mushrooms
1 clove garlic, minced
1/2 cup red wine
2 cups Alfredo sauce
1lb penne pasta, cooked and drained
1/2 cup Parmesan cheese
DIRECTIONS
In a large skillet, sauté sausage, pepper, mushrooms and garlic. Add wine, continue to cook until half of the liquid has evaporated. Stir in sauce, pasta and cheese until blended.
Serve immediately.
Recipe courtesy of Soloways. Makes 4 servings.