---
Veal Scallopini with Mushrooms
---
This recipe is easy to execute even in the busiest of kitchens!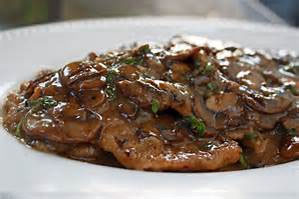 Tender, rich and flavourful, it will satisfy all your guests!
INGREDIENTS
4 veal scallopini
4 Tbsp olive oil, divided
2 Tbsp butter
3 Tbsp all purpose flour
Salt and pepper to taste
1 med portobello mushroom, sliced
6oz Chanterelle mushrooms, sliced
1 1/2 cups chicken broth
1 1/2 tsps fresh rosemary, chopped
1/2 cup red wine
DIRECTIONS
1 - Heat 3 tablespoons olive oil with butter in a skillet over medium-high heat.
2 - Season the veal with salt and pepper and dredge with flour. Sear scallopini until browned, 1 to 2 minutes per side or until juices run clear.
3 - Remove veal from skillet and add mushrooms to the skillet. Sauté for one minute or until mushrooms are soft and fragrant.
4 - Add chicken broth and rosemary; cover, and simmer 10 minutes.
5 - Stir in red wine, increase heat, and cook, uncovered, until sauce is reduced by half.
6 - Return veal to the mushroom sauce for the final 2 minutes.
7 - Drizzle with remaining olive oil. Serve over pasta or with rice or potato and vegetable on the side.
With this recipe you can substitute veal scallopini for: veal cutlet or chops, chicken scallopini, pork chops or pork cutlet!

Makes 4 servings.