---
Lobster & Crab Ravioli with Rosée Sauce & Asiago Garlic Herb Bread
---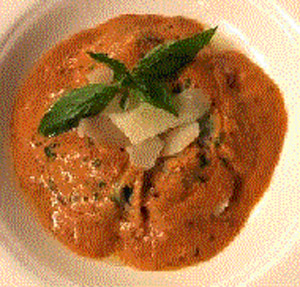 An easy to execute and delicious meal for the season! Full of flavour and visually appealing, this meal will have your customers raving to their friends about it. Change up the sauce and use your own signature one or offer a caesar salad to start as a bundled feature.
Asiago Garlic Herb Bread (Mix spread ahead and refrigerate)
INGREDIENTS:
1 cup Asiago cheese (grated) (#20780)
2 cloves garlic (pressed) (#87135
1/2 cup mayonnaise (#05165)
1 teaspoon oregano (dried) (#14015)
1 teaspoon thyme (dried) (#14125)
1 teaspoon parsley (dried) (#14025)
Salt & pepper (to taste)
1 baguette (sliced) (#38318)

DIRECTIONS:
In a mixing bowl, combine the Asiago, garlic,mayonnaise, oregano, thyme, parsley, salt andpepper. This can be made ahead and refrigerated.
Rosée Sauce (4 servings)
INGREDIENTS:
2 tablespoons olive oil (#13736)
3 tablespoons butter (#44178)
3 shallots (finely chopped)
1/2 cup cooking wine white (#10445)
3 cloves garlic (minced) (#87135)
1 teaspoon dijon mustard (#07060)
3.5 cups diced tomatoes (#00695)
1 teaspoon Italian seasoning (#13975)
1 cup whipping cream (#44168)
18 fresh basil leaves (10 torn & 8 whole) (#87126)
3 teaspoons Asiago cheese (freshly grated, to taste)(#20780)
DIRECTIONS
On medium heat, add butter, oil, and shallots to a skillet.
Sauté shallots for about 2-3 minutes then add the wine, garlic, dijon mustard, diced tomatoes, Italian seasoning, and simmer for 3-4 minutes.
Stir in the cream, 1 tsp of Asiago cheese, season with salt and pepper. Simmer for about 10 minutes on medium-low heat.
The final 2 minutes, add 10 torn basil leaves to the sauce.
Meanwhile, boil a large pot of salted water and cook ravioli (#23406) according to directions (7 pieces per serving).
When pasta is almost ready, arrange baguette slices on a baking sheet in a single layer. Spread the Asiago mixture on the slices. Broil for 3 minutes, or until the cheese is melted and golden brown.
When pasta is ready, plate ravioli, top with rosée sauce and garnish with remaining Asiago cheese and basil leaves.
Serve immediately with Asiago Garlic Herb Bread on the side.