---
Marinated Rosemary and Garlic Lamb Loin Chops
---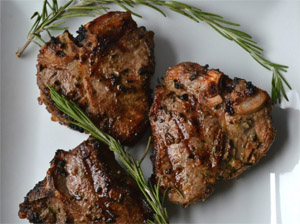 This recipe is so quick and easy, yet so flavourful. Pair with roasted carrots and Mediterranean rice pilaf for a delicious dinner!
INGREDIENTS:
1 lemon, juiced (about 2 tablespoons)
2 teaspoons dried rosemary
2 garlic cloves (minced)
1/2 teaspoon salt
1/4 teaspoon freshly ground black pepper
1 tablespoon olive oil
8 lamb loin chops, trimmed of all visible fat
DIRECTIONS: (4 servings can be prepared the night before)
In a small bowl, mix the top 6 ingredients and stir until well blended.
Place the lamb chops in a sealable plastic bag and pour the marinade over them. Move the chops around in the bag so the marinade coats them well.
Marinate for 1 hour or overnight. Do not marinate for over 24 hours.
Grill or broil the chops for 3 to 4 minutes per side for medium rare.
Let rest for 4-5 minutes.
Serve with roasted carrots and rice pilaf.