---
Mac & 4 Cheese with a Curry Crumb
---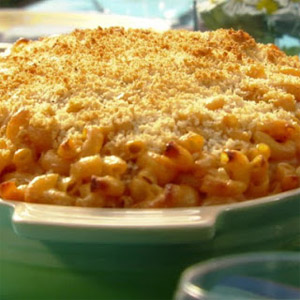 Who doesn't love Mac & Cheese? Mac & Cheese is making a huge comeback on Canadian menus and is very profitable and easy to make. Just prepare ahead in individual serving dishes, heat and serve. The 4 cheeses in this recipe work well together, and the curry powder brings a wonderful and trendy twist to this classic old favourite. But don't stop there, try adding chicken, ham, even lobster for an upscale version of Mac & Cheese… as always be creative!


INGREDIENTS:
2 cups elbow macaroni
1/4 cup butter
1/4 cup all-purpose flour
1/4 teaspoon dried thyme
1/4 teaspoon cayenne pepper
1/8 teaspoon white pepper
3 cups milk
1 pinch ground nutmeg
1/4 teaspoon worcestershire sauce
1/4 cup parmesan cheese, freshly grated
1/2 cup shredded fortino cheese
1/2 cup marscapone cheese
2 cups shredded sharp cheddar cheese, divided
1 teaspoon dijon mustard
1 1/2 cups panko bread crumbs
1 tablespoon curry powder
1 tablespoon garlic powder
2 tablespoons butter, melted
DIRECTIONS:
Preheat oven to 400 degrees F (200 degrees C).
Fill a large pot with lightly salted water and bring to a rolling boil over high heat. Once the water is boiling, stir in the macaroni, and return to a boil. Cook the pasta uncovered, stirring occasionally, until the pasta is cooked through but still slightly firm, about 8 minutes. Drain well.
Melt 1/4 cup butter in a large saucepan over medium heat. When the butter starts to foam and bubble, stir in the flour; cook on medium heat until flour just begins to turn pale yellow, 3 to 4 minutes. Add thyme, cayenne pepper, and white pepper; cook and stir another minute, then whisk in 1 cup of milk until smooth. Pour in remaining milk and whisk again. Bring the sauce just to a simmer.
Stir in nutmeg, Worcestershire sauce, and salt; simmer on medium-low heat until thickened, about 8 minutes, whisking often. Turn heat off, then add Parmesan, fortino, marscapone and 1 1/4 cups of cheddar cheese; stir until combined. Add dijon mustard and stir again.
Transfer the macaroni into a casserole dish, then pour in the cheese sauce; stir to thoroughly combine sauce with pasta. Mix panko bread crumbs and 2 tablespoons melted butter, curry and garlic powder in a small bowl. Sprinkle crumbs on top of macaroni and cheese. Sprinkle remaining 3/4 cup of cheddar cheese on top.
Bake in the preheated oven until bread crumbs and cheddar cheese topping are golden brown, about 20 minutes.