---
Amaretto Cream with Whipped Coffee Crème Anglaise
---
Layers of nutty, creamy, coffee flavoured custard like dessert, both cost effective and beautiful for Valentine's Day. Recipe compliments of Rich's.
INGREDIENTS : (24 servings)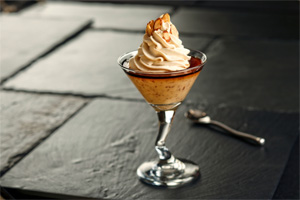 2 ea Rich's premium custard bases
25 oz almond cake and pastry filling
24 oz Rich's whip topping
½ tsp almond extract
1 tbsp instant coffee granulates
24 fl. oz Kahlua
½ cup sliced almonds toasted
DIRECTIONS:
In large, heavy sauce pan, combine 48 ounces (1 ½ cartons) Rich's premium custard base and the almond cake and pastry filling (25 ounces is 2x12.5-ounce cans).
Stir to combine and bring to a boil, stirring constantly.
When mixture boils, reduce heat and simmer for 2 minutes.
Pour an equal amount into each of 24 martini glasses (or other serving dish of your choice) and chill.
As dessert chills, combine Rich's whip topping liquid, the remaining 16 ounces of the premium custard base, instant coffee powder and almond extract.
Allow coffee to dissolve. Whip until soft peaks form.
When ready to serve, pour 1 ounce of Kahlua in each dessert.
Top each dessert with an equal serving of the whipped coffee crème anglaise and 1 teaspoon sliced, toasted almonds and serve.