---
Cheesy Ham and Asparagus Bake


---
INGREDIENTS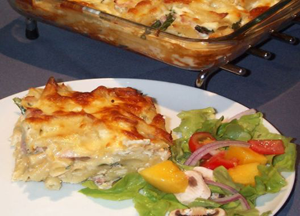 1 1/2 cups chopped cooked ham   #27160
1/2 cup chopped onion
1/4 cup chopped red bell peppers
10 ounces frozen cut asparagus, thawed
8 eggs
2 cups milk
1 cup all-purpose flour
1/4 cup grated Parmesan cheese   #20690
3/4 teaspoon dried tarragon
3/4 teaspoon salt
1/2 teaspoon black pepper
1 cup shredded Cheddar cheese   #20590
DIRECTIONS
Preheat oven to 425 degrees F (220 degrees C).
Lightly grease a 9x13 inch baking dish.
Mix the ham, onion, red bell peppers, and asparagus in the prepared baking dish.
In a large bowl, beat together the eggs, milk, flour, Parmesan, tarragon, salt, and pepper.
Pour over the ham mixture.
Bake 20 minutes in the preheated oven, or until a knife inserted in the center comes out clean.
Sprinkle with Cheddar cheese.
Continue baking 3 to 5 minutes, or until cheese is melted.
Let stand 5 to 10 minutes before serving.