---

Beef Barley Soup
---
INGREDIENTS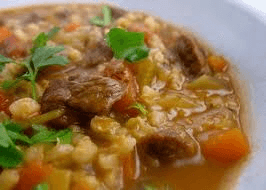 1 lb. stewing beef 1" cubes   #23430
2 carrots, peeled and sliced   #87056
1 medium onion, chopped   #87035
2 bay leaves   #13875
1 stalk celery, sliced   #87016
2 tbsp. olive oil   #13736
1 can diced tomatoes   #00695
1-½ cups pearl barley   #02105
8 cups beef stock   #02893
salt and pepper
DIRECTIONS
Warm the olive oil in the soup pot over medium high heat. Add beef and brown well. Add carrots, onion, and celery, turn heat down to medium low and cook about 5 minutes, stirring to coat all the vegetables with oil.
Add tomatoes with their juice, barley, bay leaves, beef stock, and salt and a couple of grinds of pepper. Bring to a simmer and cook uncovered about one hour or until barley is soft and beef is tender.
If the soup is too thick at this point stir in up to one cup of hot water or stock to achieve desired consistency. Remove bay leaves. Serves 6.