---
French Style Turkey Gravy
---
INGREDIENTS: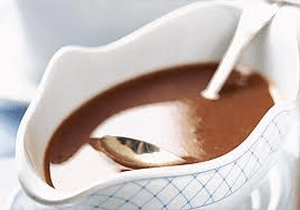 Neck and trimming from turkey
1 carrot, peeled and chopped
1 rib celery, chopped
1 yellow onion, peeled and chopped
2 cloves of garlic, peeled and chopped
2 sprigs fresh thyme, chopped
2 sprigs fresh rosemary, chopped
1/2 cup dry white wine
1 cup port wine
4 1/2 cups turkey stock
2 tbs. butter   #44110
1 tbs. flour   #09125
1/4 pound mushrooms, sliced
salt & pepper, to taste
1/3 cup cream, optional   #44151
DIRECTIONS
Sauté turkey neck & trimmings with carrot, celery, onions, 1/2 the garlic, thyme and rosemary until celery and onions are translucent.
Deglaze with 1/2 cup of white wine and 1 cup of port wine.
Add Turkey stock.
Cook for 2 hours.
Strain stock, return to the stove and reduce by 1/3rd.
Remove and set aside.
In a sauté pan, cook butter with 1 tbs. flour for 5 minutes to a light brown color.
Add stock to butter & flour (roux) with a whisk. Cook for 1/2 hour.
In a separate pan sauté mushrooms with rest of garlic, salt and pepper until mushrooms are tender and add to sauce.
Add cream for a richer consistency.