---
Cilantro BBQ Grilled Pork Chops
---
INGREDIENTS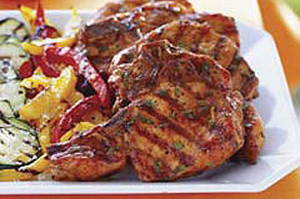 1/2 cup BULL'S-EYE Original Barbecue Sauce   #06367
1/2 cup chopped fresh cilantro
1 Jalapeño pepper, seeded, finely chopped ½ tsp.
Orange zest 2 tbsp.
Orange juice   #10100
4 Bone-in pork chops   #27169
DIRECTIONS
Mix all ingredients except chops. Reserve half for serving with cooked chops.
Grill chops 7 to 8 min. on each side or until done (160°F), brushing occasionally with remaining sauce.
Serve with reserved sauce.
For summer, pork chops are great on the grill with one of our many BBQ sauces or with a zesty rub. In the fall, think of sweet saucy toppings or covered with a country gravy.
At Findlay Foods, we have just the right pork chop for the meal you would like to create.