---
Duck Breast with Honey and Spices
---
INGREDIENTS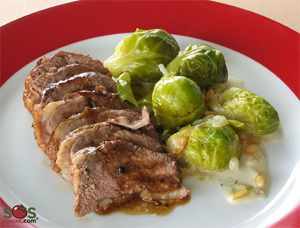 1 1/2 tbsp honey, liquid
1 1/2 tbsp balsamic vinegar
1/2 tsp ground cinnamon
1/2 tsp ground cumin
1/4 tsp coriander seeds, coarsely ground or crushed
1/4 tsp peppercorns, coarsely ground or crushed
2 King Cole duck breast   #32915
salt to taste
DIRECTIONS
Preheat the oven to 400°F. 2.Heat the honey in a saucepan over high heat 2-3 min, until it is slightly caramelized. Pour in the vinegar and mix well. Add the spices, lower the heat to 'low', then let the sauce reduce 5 min, until it has reached a 'coating' consistency.
Make crosshatched incisions in the skin of the breasts. Season with salt then rub it into the meat. Put the breasts, skin side down, in a thick-bottom skillet. Pour the honey sauce over the breasts then cook in the middle of the oven about 6-8 min. Turn them, then cook an additional 2 min (for medium-rare doneness).
Transfer the duck breasts to a cutting board, cover with aluminum foil and let stand 5 min before slicing (to reabsorb the juices). Put the slices on the warmed plates, spoon the sauce on the slices and serve with roasted asparagus, blanched green beans, parmesan fennel or Milan-style brussel sprouts.