---
Easy Glazed Apples and Sausage
---
INGREDIENTS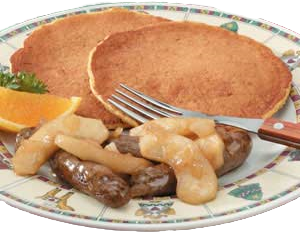 2 lbs uncooked pork sausage links   #24500
2 large tart apples, peeled and sliced
1 large onion, chopped
1/3 cup water
1/4 cup packed brown sugar

DIRECTIONS
Brown sausages in a skillet until cooked through, turning twice .
Meanwhile, in a large saucepan, combine the apples, onion, water and brown sugar.
Cook over medium heat for 5-8 minutes, stirring occasionally.
Add the sausage and heat through.
Serve with potatoes on the side or with pancakes or waffles for breakfast.