---

Cinnamon Swirl Pancakes

---
What a treat! Tastes like a cinnamon roll in a fraction of the time. Very simple to incorporate into your menu as a breakfast or dessert. Put it on your feature board and watch this profitable dish sell!
INGREDIENTS: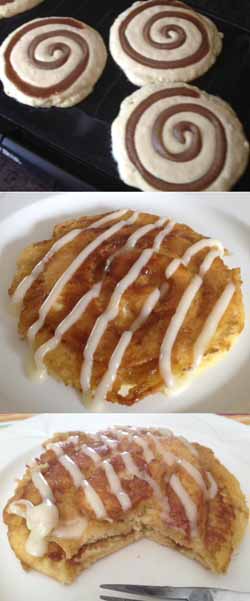 Pancake Batter: (12-18 pancakes)
2 cups waffle pancake mix
1-1/2 cups water
Cinnamon Filling:
3/4 cup butter, slightly melted
1-1/2 cups brown sugar, packed
2 tbsp ground cinnamon
Cream Cheese Glaze:
1/2 cup butter
4 oz cream cheese
1.5 cup powdered sugar
1/2 tsp vanilla extract
DIRECTIONS:
In a medium bowl, mix butter, brown sugar and cinnamon. Transfer to a squeeze bottle and set aside.
In another microwave-safe bowl- heat butter and cream cheese until melted. Whisk together until smooth; whisk in powdered sugar and vanilla extract. Transfer to a second squeeze bottle and set aside.
Combine pancake mix with water, mix well and set aside.
Spray a medium-low grill with nonstick spray. Pour pancake batter on the grill and squeeze a spiral of the filling onto the top of each pancake. When bubbles appear on the surface, flip and cook until browned.
Place pancakes on the plate and top with cream cheese icing. Serve immediately.
PROFIT POTENTIAL
(3 large pancakes)
Approx. Cost - $1.30
Suggested Sell - $6.99 - $8.99
Profit - $5.69 - $7.69