---
Tasty Lamb Burgers
---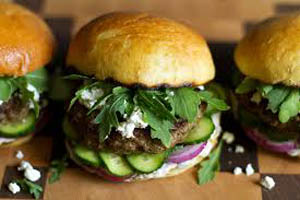 Something new for your summer menu! A lamb burger would add a unique and flavourful option to your regular burger menu!
INGREDIENTS
2 lbs lean ground lamb   #65506
2 large eggs   #33520
2 small onions, grated   #87035
3/4 cup minced fresh parsley   #87120
1/2 cup dry bread crumbs   #09040
1 tsp dried oregano   #14016
2 cloves garlic, minced   #87135
1/2 tsp salt   #13791
1/2 tsp pepper   #13877
1/4 tsp cinnamon   #13920
6 Brioche Burger Buns   #36647
Garnishes - Tzatziki sauce, crumbled feta cheese, baby spinach, sliced tomatoes & red onions.
DIRECTIONS
In large bowl, beat egg with 2 tbs water. Stir in onion, parsley, bread crumbs, oregano, garlic, salt, pepper and cinnamon; mix in lamb. Shape into 6 patties.
Brush grill with oil. Grill burgers 5 minutes on each side, or until well done.
Lightly toast buns and build your burgers with 1 tsp tzatziki sauce, 1oz crumbled feta cheese, baby spinach, sliced tomatoes and sliced red onions.
Other garnish suggestions; roasted red peppers, sliced cucumbers or baby greens. Make it your own!
Makes 6 - 5.33oz burgers.
PROFIT POTENTIAL
Approx. Cost - $3.64
Suggested Sell - $10.99 - $12.99
Profit - $7.35 - $9.35
*Includes a provision of $.87 for garnishes